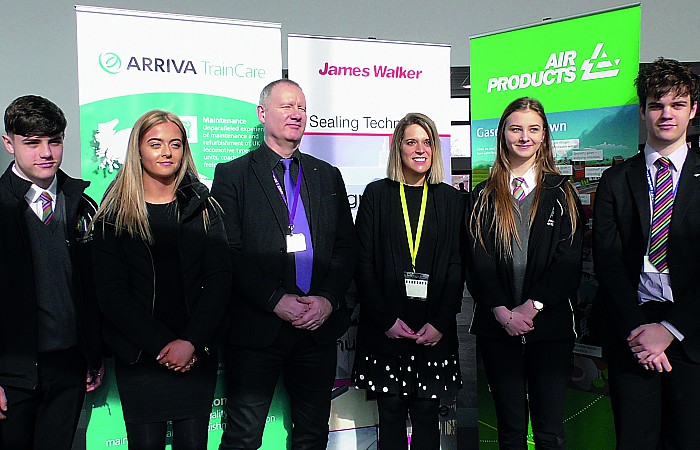 MP for Crewe and Nantwich Laura Smith praised staff and students at the new Crewe UTC.
The first cohort of students are working hard at the new college where they use high tech facilities and equipment including the workshop, virtual reality engineering, mechatronics and the new Joseph Locke building.
Crewe UTC aims to create a school where students study in a workshop with cutting-edge, professional engineering equipment, as used by international companies.
Ms Smith praised the role of the UTC in the area and the opportunity for the students to develop key skills for careers.
"It was a pleasure to meet with the students and teachers at the UTC and to see their obvious enthusiasm for the subjects," she said.
"The students' maturity and knowledge and understanding shone through and it was great to listen to the stories of personal achievement."
David Terry, Principal of Crewe UTC, said: "Crewe UTC has already demonstrated great success.
"Since we opened our new Joseph Locke building, we have been even more visible in the centre of Crewe.
"Our recruitment numbers have increased, with students also joining us from outside of Crewe including Congleton, Wilmslow, Stoke-on-Trent, Newcastle-Under-Lyme, Middlewich, Northwich, Chester, Ellesmere Port and Market Drayton.
"We are already forecasting an increase in numbers for next year.
"The engagement with our employer partners offers a real advantage to our students, who get 'real life' projects to work on and gain a sense of achievement.
"Our current students have engaged very well with our employability focused curriculum.
"We attribute this to our different approach, the modern facilities and the commitment of our teachers and employer partners mentoring the students."
Crewe UTC offers courses to 14-19 year olds who can work with national and local companies while gaining GCSEs, A Levels and Technical Award qualifications.
Applications for September 2018 admissions remain open.
The UTC benefits from business, academic and local authority partners such as Bentley Motors, OSL Rail, Manchester Metropolitan University, Siemens, Bosch, Leoni, Air Products, James Walker, Optical 3D and Cheshire East Council.
There will be an Open Day on Saturday March 24 from 10.30am to 1pm.
More information can be found on the UTC website www.utccrewe.co.uk