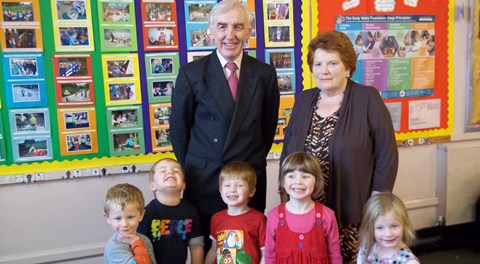 A plea for help to keep popular Willaston Pre-School in Nantwich open has been a success.
The group has now appointed a new chairperson in Pat Harborth, a local Soroptimist member.
Local councillors Brian Silvester and Jacquie Weatherill joined Dawn Clark, community development officer for Cheshire East, in appealing for help to support the facility, and they have been overwhelmed with the response.
Cllr Silvester said: "I am delighted the call we made for people to come forward to help the pre school group has been so successful.
"It is encouraging that so many local people are willing to give so freely of their time.
"I am sure that the pre school group will now go from strength to strength and continue to be a real asset to the educational provision in our local community."
The pre-school is also celebrating an overall rating of "Good, with Outstanding features" after an Ofsted inspection carried out on November 15.
Ann Darlington, pre-school supervisor, said: "Not only has the recent publicity resulted in the successful appointment of a new chairperson and vice chairperson, it has also attracted the attention of an Early Years teacher and an eminent Professor of Early Childhood Education, who have offered their help and support.
"The pre-school is set to continue to flourish now and has only a few spaces currently available for this academic year.
"We are taking names for new starters in September 2012 however."
For more information visit www.willastonpre-school.org.uk or contact 07966 368423. For admission enquiries call 07944 208909.