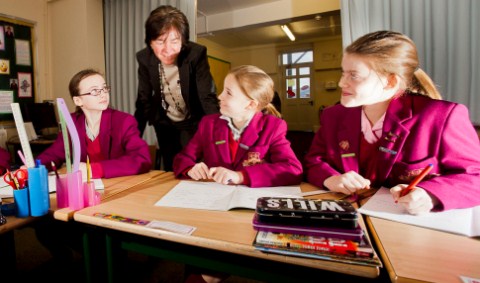 A ten-year-old girl from Nantwich is going back to the future as Latin, the language of the Romans and of the Vatican, makes a comeback.
Lucy Allinson is among primary school children lapping up the subject now back on the curriculum at Howell's School, in Denbigh.
Latin went out of the educational window 30 years ago but is now being revived, according to Howells Academic Principal Emma Jones.
Celebrity fans of the language, including London Mayor Boris Johnson, Facebook founder Mark Zuckerberg, Hollywood A-lister Angelina Jolie and football superstar David Beckham, have made it trendy to learn once again.
Lucy said: "It's a lot of fun and we're learning lots of different words and sentences. It's very interesting and you can see the connection with words in other languages."
Emma Jones said: "People have realised it's actually very good to learn Latin as it opens up so many avenues for pupils.
"We have introduced it for seven-year-olds because younger age groups are able to learn languages much more quickly and better.
"And they absolutely love it. We are a very international school and we held a school assembly where we had pupils from all over the world say a greeting and 'Good Morning' in their native language and we had one of the Latin class say it in Latin.
"It's definitely useful for those learning languages because so many words in European languages come from Latin, even in Welsh, and it's good for those going into the law or medicine.
"The senior school due to restart Latin lessons in September, teaching it alongside studies of Classical Civilisation and the ancient Romans, who gave us the foundation of our calendar, government and law."
Latin teacher Dr Daniela Molinari said: "It's not just the language but how they connect with it and they're very clever and can make the connection and they enjoy translating names into Latin."