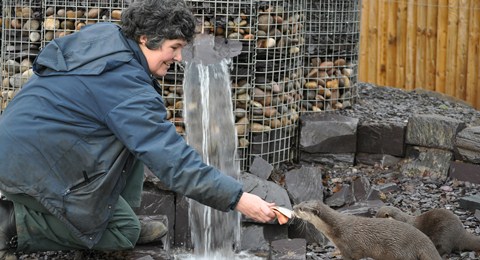 Families have two attractions to look forward to at Reaseheath College in Nantwich in the next few weeks.
The college is staging live lambing events over two weekends, and is also opening its campus zoo to the public.
The zoo houses 1,000 animals including meerkats, lemurs, tapirs, otters and birds or prey. Keepers will be on hand to chat to visitors.
The live lambing events have been running for more than 20 years and attract thousands of visitors eager to meet the new arrivals.
Reaseheath has a flock of 500 sheep ready to give birth and about 1,000 lambs are expected.
A big screen will show highlights of the action and experts will demonstrate the care required for fostering lambs.
Children will be encouraged to watch as lambs are bottle fed and given health checks.
Lambing event organiser Jane Clegg says: "This is the most popular event the college holds and we are looking forward to welcoming our visitors again.
"There's always a really good atmosphere, as new lambs mean that Spring is only just round the corner! And it will be even better this year because families can visit our zoo as well."
Reaseheath's lambing sheds and zoo will open on Saturday and Sunday February 25-26 and March 3-4 from 10am to 4pm.
Hot refreshments will be available and outdoor plants will be on sale. For details contact 01270 625131 or visit www.reaseheath.ac.uk
(PIC: Zookeeper Val Hynes feeds Yin and Yang, oriental short clawed otters)