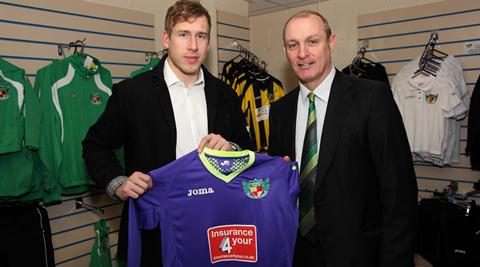 By Ashley Houghton
Nantwich Town goalkeeper Jon Brain has signed an extension to his current contract.
Brain will now remain between the sticks for the Dabbers for a further two years.
Nantwich boss Jimmy Quinn said he was delighted to keep Brain who he believes is the 'best keeper in the division'.
Quinn added: "This is excellent news and provides us with the foundation to build for an exciting and successful campaign next season.
"Jon is in my opinion the best keeper in the league and, probably above, the fact that he is prepared to commit his immediate future to us, shows the belief he has in the club, its supporters and our ambitions.
"We are working hard behind the scenes well in advance of next season to secure key players we believe will help us to be ultimately successful.
"I want to go into next season with the basis of a settled and familiar side and hopefully there will be more announcements in the near future on this."
Brain has revelled in his first year at the Weaver Stadium.
"My first season at Nantwich has been a really enjoyable and exciting one," said the ex-Macclesfield, Port Vale and Walsall stopper.
"While there have been some disappointments, there have also been some very rewarding successes.
"And even though I have had offers from clubs in higher divisions I believe with the tremendous facilities, support and ambitions the club have, we can achieve them together here and that's why I am prepared to pledge my future to the club.
"I would like to take the opportunity to thank the supporters, management and directors of the club for making me so welcome in my first season and I look forward to exciting times ahead."