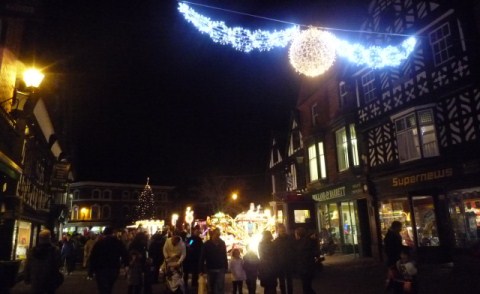 Councillors have revealed plans to revamp this year's Nantwich Christmas Lights switch-on on December 1.
It follows criticism of last year's event which many felt was a damp squib.
The display was poorly illuminated at times due to problems with timers and fuses, and the size of the display was also criticised.
Now Cllr Christine Farrall has unveiled grander plans for 2012 after meeting with retailers and traders who will get involved.
They plan to put lights on trees in the centre of the town square and at the top of Mill Street, on the large tree outside the bank near Bratts, to illuminate the centre much more.
Cllr Farrall said: "The town traders have agreed to light up their shop fronts and buy small Christmas trees which will be adorned with lights.
"We're also hoping to have a proper wooden Santa's Grotto in the square, which is being organised by Steve Lawson at the Nantwich Bookshop."
The town council agreed to free up extra funding of around £2,000 to buy a canopy for the stage where live performances could take place during the Switch On event.
The council also plans to stage a German Market in the run up to Christmas.
"We want Nantwich to be a shopper's paradise at Christmas," Cllr Farrall added.
"It's one of the big events of the year. Traders are giving up their time and money, we will seek sponsorship and volunteer groups to help out too."