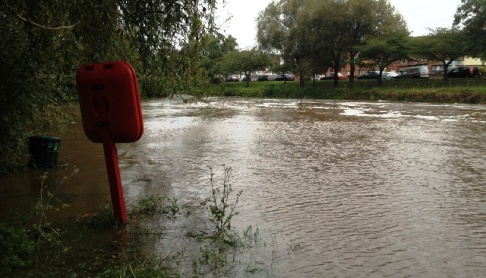 The Environment Agency has issued a Flood Warning for the River Weaver through Nantwich.
River levels along the Weaver's catchment through the town to Shrewbridge Lodge are very high after heavy and persistent rain.
It's the third flood warning for that stretch of river in the last three months after similar ones in September and November.
The warning covers the area north from the A51, through Waterlode near the town centre, and to the lodge near the railway line towards Nantwich Lake.
Localised flooding has already cut off footpaths and bridges along the riverside.
The warning was updated at 12.30pm today (December 21).
A spokesman for Environment Agency said: "River levels remain high in the Weaver catchment due to heavy overnight rain.
"Further heavy rainfall is expected on Saturday(December 22) from the early hours until around midday.
"With lighter rain forecast throughout the rest of the day. As a result river levels are expected to rise and remain high throughout Saturday and into Sunday. We will continue to monitor the situation and issue updates accordingly."
A Flood Warning means "flooding is expected and immediate action is required" from residents and businesses in the area affected.
It's the only current Flood Warning in place for the North West (as of December 21 6pm)