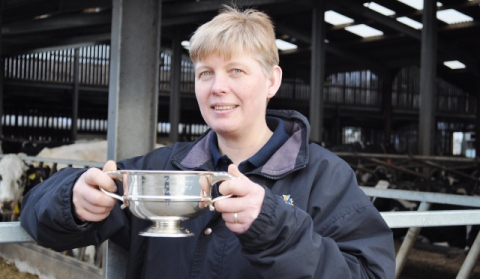 Star performers of Reaseheath College in Nantwich have been honoured for their efforts at an awards night.
Teams and staff members judged to have "gone the extra mile" have received Awards of Excellence at an annual event.
And the Reaseheath STAR Award for the staff member who made the most outstanding contribution of the year, went to Nat Gascoyne, course manager for agricultural apprentices.
Nat oversees 80 work-based learners and recently set up an apprenticeship scheme with The Co-operative.
She ensures all Reaseheath's agricultural apprentices receive relevant training and skills which they take back to employers.
She also fundraises for Reaseheath's RAG, cycling from John O'Groats to Lands End and completing an "alternative" triathlon involving cycling, kayaking and mountain climbing.
Nat said: "This award came as a complete surprise. While I am very proud to receive it, my achievements have been due to the support of highly successful and forward thinking colleagues in our agriculture department."
Others to receive awards included:
– Lisa Brewitt (Innovation Award) Foundation tutor using natural horsemanship and equine assisted learning
– Lisa Sharp (Education Excellence) Manager at Reaseheath's equestrian outreach centre
– Mark Birkitt (Leader of the Year) Reaseheath's student services manager
– The Farm Staff (Team of the Year) Led by farm manager Mark Yearsley
– Mark Hardy (Giving Something Back Award) Student services coordinator
– Tracey Edwards (Colleague of the Year) Reaseheath's human resources adviser
– Greg Houghton (Special Achievement Award) Public services course manager
– Louise Moss (People's Award) Horticulture lecturer for teaching at outreach centre in Wirral
– Glyn Ferriday (People's Award) Marketing manager for leading a team at the Cheshire Show and Royal Welsh Show