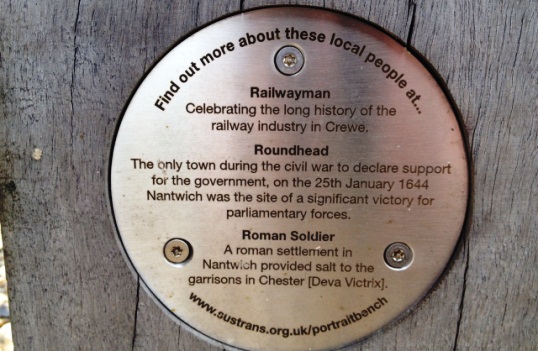 By Jonathan White
These pictures show the portrait bench which marks the opening of the new Crewe-Nantwich Greenway route.
The route runs from Tipkinder Park in Crewe, around Queens Park and King George V playing fields to the Rising Sun Inn.
Then it feeds west through fields along the A530 Middlewich Road to Barony Park, ending at Beam Street in Nantwich.
It is designed to give pedestrians, wheelchair users and cyclists a traffic-free route between Crewe and Nantwich.
The western section from the Rising Sun Inn to Barony Park has been designed to accommodate horse riders.
A ribbon cutting ceremony by Councillor Peggy Martin (Mayor of Crewe), Councillor George Walton (Mayor of Cheshire East Borough) and Councillor Arthur Moran (Nantwich Town Council) took place at the 'Portrait Bench', located by the entrance to Alvaston Hall.
The ceremony was also attended by walkers, runners, cyclists and horse riders.
The Portrait Bench features life-size sheet steel effigies of a Roman Soldier, a Civil War Roundhead and a Railwayman
The route was funded by the Big Lottery Fund, constructed by William Pye Ltd and promoted by Sustrans (sustainable transport charity).