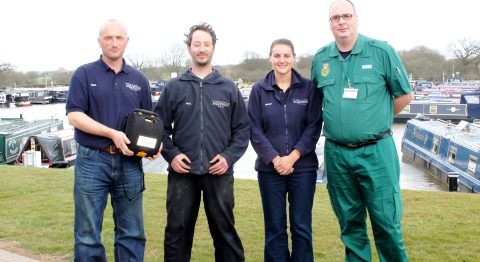 Six members of staff from Aqueduct Marina in Nantwich have been trained to help save lives.
The employees are now equipped with an Automated External Defibrillator (AED) given to them by North West Ambulance Service.
The 147-berth marina welcomes hundreds of visitors every year, and is surrounded by 100 acres of farmland networked with walking trails.
The AED will be sited at the marina, in Church Minshull, and will be available to access 24 hours a day.
Nick Blair, NWAS resuscitation development officer, said: "I am really pleased the marina has taken on board our initiative to place AEDs where there is an increased risk of cardiac arrest due to the high number of visitors.
"Staff are now equipped with the knowledge and skills that could save a life – joining over 2.6 million people in the UK who have already been trained as part of the initiative.
"The machines are so simple to use and cannot do any further harm to the patient.
"They only allow you to deliver a shock if a patient is in a specific rhythm.
"The AED delivers an electric pulse through the chest, in an attempt to restore normal heart rhythm.
"A patient's chance of survival decreases 10% for every minute that passes without defibrillation. Therefore with the application of an AED within five minutes of collapse the best possible chance of survival is maintained."
Robert Parton, Church Minshull Aqueduct Marina director, said: "We are delighted to have been trained in the use of the AED by the NWAS, and been allocated a machine for use at the marina complex, although the AED is available for anyone to use.
"It will add a lot to improving the first aid provision we can provide t visitors at the marina."