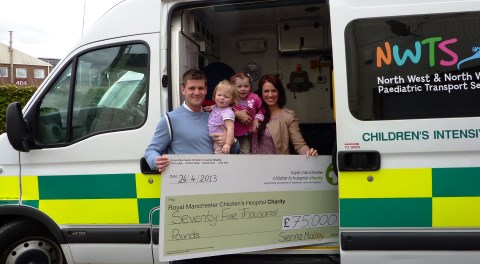 The family of a baby suffering Swine Flu is hoping to top £100,000 charity funds raised, with a special event in Nantwich.
Sienna Malley's parents have so far raised £75,000 for the North West and North Wales Paediatric Transport Service (NWTS).
Sienna, now three, was just eight months old when she contracted the deadly virus.
She was admitted to Leighton Hospital in Crewe where doctors said she needed to be transferred to Liverpool's Alder Hey Children's Hospital.
The specialist NWTS team was called in and they battled for 10 hours to stabilise Sienna, whose system had gone into toxic shock, before the transfer in the service's high-tech ambulance could be completed.
Sienna's family was so grateful for the life-saving care she received, they've spent two years fundraising for specialist equipment.
Her parents Kerri and Adam raised enough to buy a £14,000 ventilator and two training mannequins costing over £20,000.
Now the family wants to buy a Sonosite portable machine enabling doctors to place drips in infants for drug and fluid therapy.
And they are bidding to reach their £100,000 target with a James Bond themed ball at Nantwich Civic Hall on May 10.
Tickets for the event, which includes a charity auction, are £20 available from Enzo coffee shop in Nantwich or from Jennie Johnson on 07515 788889.
Kerri said: "We consider ourselves very fortunate Sienna was put in the care of such an incredible and dedicated team of people and are well aware without appropriate specialist infant equipment the NWTS team employs, our story could have had a very different ending.
"We have been overwhelmed by the support of our friends, family and local community and now ask everyone for their support for one last push towards our ultimate £100,000 target – we know that this money truly can save young lives."
Sarah Santo, lead nurse at NWTS, said: "We are amazed and incredibly grateful for the tireless efforts of Sienna's family to raise both funds and awareness of the work carried out by the NWTS team.
"The equipment their fundraising has already purchased has made a difference to hundreds of young lives from across the region."
NWTS is a team of Paediatric Intensive Care doctors and nurses who stabilise and transport very ill children to specialist hospitals including the Royal Manchester Children's Hospital and Alder Hey Children's Hospital.
For more details about forthcoming fundraising events, email [email protected]