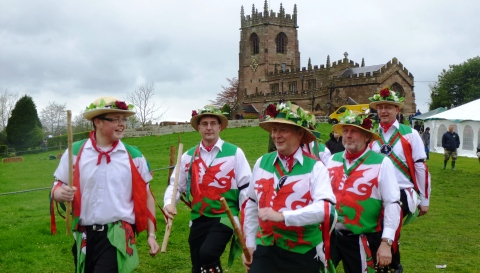 By Jonathan White
The 34th annual 'Marbury Merry Days' two-day country fair attracted hundreds of visitors to the village.
The fair was held next to St Michael's & All Angels Parish Church and Marbury Big Mere, near Wrenbury, Nantwich.
The American Civil War Society re-enacted combat displays between the Union and the Confederates and featured muskets, sharpshooters, cannons and pyrotechnics along with a living history village.
Other attractions and events included a classic car and motorcycle parade, dog and terrier racing, craft and gift fair, trade stands, vintage motor cycles, classic cars and vintage tractors.
There were also fair stalls and tombola, cake stall, refreshments, ice cream, children's activity area, Pinxton Puppets show and model aircraft flying display.
Other displays included Newfoundland dogs water display, The Little Green Men Morris Dancers, and Maypole Dancing.
Attractions in the church included floral decorations and an art exhibition.
Despite the poor weather over the weekend hundreds of people attended and enjoyed the event.
All proceeds go towards the upkeep of the St Michael's & All Angels Parish Church in Marbury.
(Words and pictures by Jonathan White)