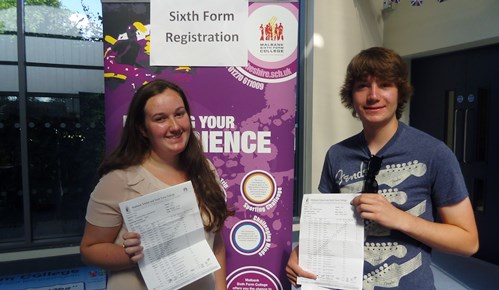 Nantwich's two secondary schools are celebrating excellent GCSE results.
Year 11 students at Brine Leas Academy and Malbank School and Sixth Form College have been celebrating their achievements.
And one Year 7 pupil at Malbank showed it's never too early to sit a GCSE, after Olive Holding (pictured, right) achieved an A* grade in French.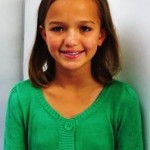 Malbank headteacher Jeannette Walker said: "We are absolutely delighted that the results right across the curriculum are superb and that students of all abilities have done really well.
"To have a pass rate for 5 x A* – C at 91% is a just reward for all those students and staff who have worked so incredibly hard this year.
"I am really proud of them".  5 x A* – C including English and Maths has also increased to 68% this year at Malbank, despite the Government's suppression of the grade boundaries nationally."
Among Malbank's high achievers are Daniel O'Neil (pictured below) with 6 x A*'s and 3 x A's, Sophie Richardson with 6 x A*'s and 5 x A's, and Jack Cooke with 10 x A*'s and 1 x A (both pictured).
Vicki Lewis has 8 x A*'s and 3.5 x A's, and James Muten 5 x A*'s and 6 x A's (both pictured) while Daniel Badrock (pictured with his mum and sister) achieved 8 x A's, 1 x A* and 1 x B.
Brine Leas achieved 70% of students gaining five A* to C graders, including English and Maths, with 95% achieving 5 or more GCSE's at A* to C.
Subject achievements included Maths (84%), English (73%), Science(92%) and the English Baccalaureate 37%.
Twenty-three students achieved A* or A in 8 or more GCSEs and the figure for A* and A's overall was 28%.
Andrew Cliffe, headteacher at Brine Leas, said: "Students can only do their very best, supported by great teaching and families.
"This year the pattern across the board is outstanding with many students exceeding their wildest expectations whether that be 12 A*s or a set of E and Fs.
"It is becoming increasingly difficult to predict what students will achieve but this set of results is, once again, excellent."
Provisional figures across Cheshire East show 62% achieved five or more A*– C grades including English and Maths, equalling the 2012 figure in the face of a "marginal decrease in national standards".
The proportion of pupils gaining five A*– C grades in any subject is 84 per cent, maintaining last year's standard. Almost 98 per cent of students gained five or more GCSEs.
Cllr Rachel Bailey, Cabinet member in charge of children and family services, said: "GCSEs are so important, they provide the platform for a young person's future, whether this is continuing education or employment and I am delighted to see young people of Cheshire East have excelled in them.
"We know we have some excellent schools and pupils in our borough but, even so, there are some very impressive results this year.
"This is a very nerve-wracking time for youngsters but I really do hope the sometimes agonising wait for results has been worth it.
"I want to thank families, teachers and schools' staff, who worked very hard to support our pupils and also the young people themselves, who are maintaining a high success rate in Cheshire East."