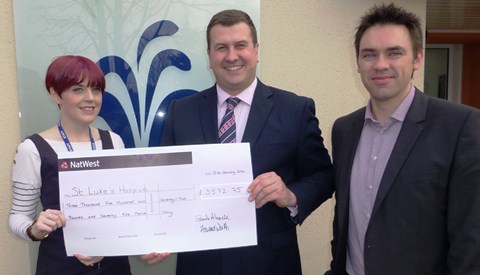 Amateur chefs in Nantwich cooked up a treat at one the town's restaurants – and helped raise thousands of pounds.
Andrew Hague, from Howard Worth, and Scott Harding, of Poole Alcock, coped with the kitchen heat to serve up a 4-course dinner from scratch for 62 guests.
And the pair did it all for charity as their culinary efforts raised more than £3,500 for St Luke's (Cheshire) Hospice.
The "Come Dine With Us" event was held at the Residence Restaurant, on Mill Street, where their head chef was on hand to ensure their high standards were upheld.
Andrew and Scott felt the pace of what it is like to work in a professional kitchen, which they discovered is a million miles away from enjoying cooking at home.
Guests enjoyed spicy parsnip soup, potato salad topped with salmon and prawns, pork stroganoff and a key lime pie.
Jessica Wilkes-Reading, from St Luke's Hospice, attended the event.
She said: "We want to thank everyone at Howard Worth and Poole Alcock for organising a fantastic event and raising this amazing amount of money.
"This is the first Come Dine With Us event that has been organised to support the hospice and we look forward to many more!"