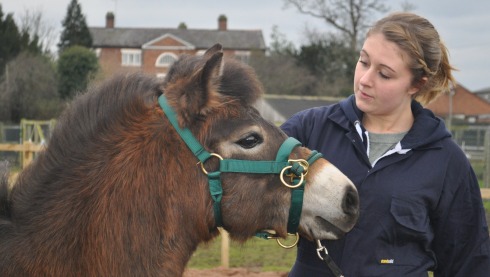 Two rare breed ponies are helping Nantwich college students understand how the equine mind works.
Exmoor ponies Yasmin and Yohan, both 19 months old, are being handled and trained by animal management students at Reaseheath College.
The ponies, bred by BBC Countryfile presenter Adam Henson, began their education at Reaseheath's equine centre last year and were featured in several programmes of the popular TV series.
Adam has since donated the filly and gelding to Reaseheath and they have joined other rare breed paddock animals which are used to teach students about their care.
Many students go on to work in zoos and farm parks and find the experience invaluable to prepare for their future careers.
The students are training the ponies to lead on a halter in a round pen using natural horsemanship methods.
They are also getting them used to being handled and groomed so they can be entered into regional agricultural shows such as the Cheshire Show and Nantwich Show.
Hoofstock Keeper Kerri Robson hopes to set up a Showing Group for students who are interested in preparing and exhibiting animals in the showring.
Plans are in place to include a fun rare breeds show in the programme for Reaseheath's popular Family Festival on Sunday May 18.
Kerri said: " I am hoping to show the students how rewarding showing animals can be.
"Thanks to Adam, our students have the chance to show well bred and attractive ponies which will hopefully catch the judges' eye.
"It is also an opportunity for them to learn how to do basic groundwork with untrained ponies.
"Being able to gaining this sort of experience is quite rare and a great privilege."
Madeline Harrison, 18, who has volunteered to help with the ponies along with Sophie Dockray, Dani Cowell and Daniel Crutchley, said: "It has been very interesting to learn how to assess the ponies' behaviour and how to work with them."
(Pic: BSc Animal Behaviour and Welfare student Sophie Dockray makes friends with Exmoor filly Yasmin)