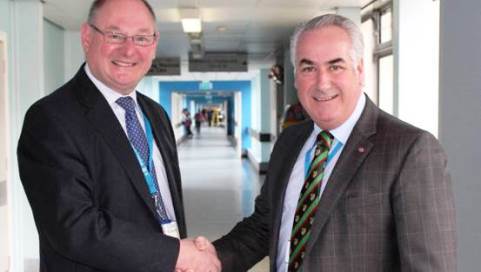 A new chairman of Mid Cheshire Hospitals NHS Foundation Trust, which runs Leighton Hospital, has been unveiled.
Dennis Dunn MBE takes over from John Moran, who has retired.
Dennis, Pro Vice Chancellor International of Manchester Metropolitan University (MMU) and Dean of MMU Cheshire, has a background in Business Information Technology.
He has advised commercial organisations and universities around the world on information systems strategy and is an adviser on a European Commission project in the Czech Republic.
Dennis has been a non-executive director at MCHFT since May 2009, having previously been a Governor at the Trust.
He was awarded an MBE in the Queen's Birthday Honours in 2010 for his services to Higher Education.
Dennis said: "The Trust is already rated in the top 40 by CHKS and our patients at Leighton Hospital and Victoria Infirmary, together with Elmhurst Intermediate Care Centre, are treated and cared for by talented and dedicated staff.
"The changes in the health sector and our trust will continue and the imminent opening of our world class operating theatres serves as a terrific example of how we must respond to the future challenges.
"My role as chairman is to steer the trust to the next level still and I am confident about our future."
Mr Moran was chairman for almost six years.
He said: "It has been an eventful period since I was appointed in July 2008, and a time that has been enormously rewarding to me personally.
"I have had the privilege of working with an outstanding group of people as well as our council of governors, stakeholders and partners, and all of our volunteers."