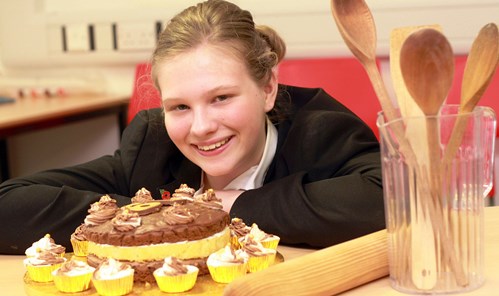 Budding bakers were crowned winners in a hotly-contested schools challenge run by Reaseheath College in Nantwich.
Ten entries from 120 made it through to the final of the Year 9 Schools Bake Off Competition, held in the college's specialist food centre in Nantwich.
Finalists, who included Charlotte Hesketh, 13, from Sandbach High School, had to bake a cake or pastry with a royal theme.
Judges, including professional chef Brian Mellor, Cheshire WI judge Mary Hignett and Peter Wright, Chairman of competition sponsors the Wrights Pies Food Group , were looking for originality, presentation and taste.
And Charlotte's Coronation cake, an orange and chocolate buttercream sponge topped with chocolate ganache, scored highly.
The competition attracted entries from 45 secondary schools in five counties.
Reaseheath food technologists selected finalists after visiting schools throughout Cheshire, Staffordshire, Manchester, Wirral and mid Wales to view and taste the cakes and to test the knowledge of the young bakers.
Overall winner was Charlotte Parton, 13, from Grove School, Market Drayton, who won a £100 cash plus two iPads for her school.
Also in the top spots were Megan Glover, 14, and Louise Brown, 13, from Stockport School, and Sam Platt and Lily Peachment, both 14, from Cransley School, Northwich.
Styled on the hit tv programme 'The Great British Bake-Off', the competition was so popular there are plans to repeat it next year.
Mary Hignett said: "We have just witnessed the bakers of the future, all of whom have very good technical ability and excellent skills.
"The cakes they produced had wonderful textures and flavours. The standard was so high that it was very difficult for us to select the top entries. In our opinion, all the finalists were winners.
"Reaseheath's food department should be congratulated on running such an inspired and exciting competition."
Charlotte, a keen home baker, said: "I wanted to make my cake original and different and I tried lots of ideas out at home and at school.
"The competition was brilliant fun and I got great feedback from the judges. It's made me even keener to look at food science as a career."
Reaseheath's Food Centre was opened in 2011 and is one of the best equipped food processing teaching and practical facilities in Europe.
(Pic: Bake-Off finalist Charlotte Hesketh, from Sandbach High School, with her orange and chocolate Coronation cake)