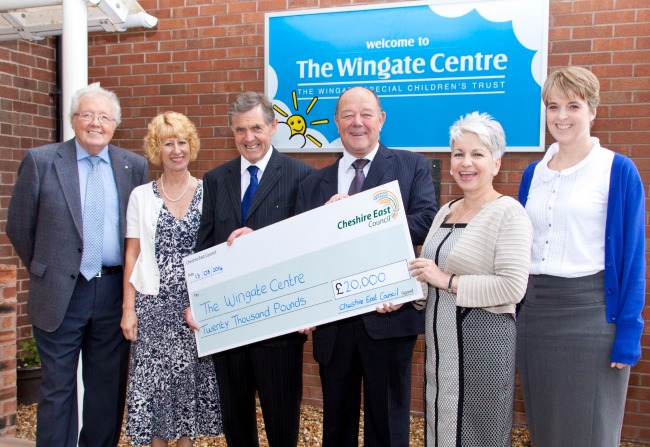 A pot-holed road leading to a Nantwich children's centre is to finally be repaired thanks to a £20,000 grant.
Parents and visitors have complained for years about the access road to the Wingate Children's Centre, Wrenbury.
They have had to negotiate the long, extremely pot-holed un-surfaced lane, often with disabled youngsters.
But now a £20,000 grant from Cheshire East Council will enable the charity to re-surface the access road.
"The state of the lane has been quite appalling for some time," said Geoff Parsons, chairman of the Trustees at The Wingate Centre.
"It no doubt would have continued to be so, had it not been for this donation.
"We are very grateful to Councillors Michael Jones, Stan Davies and David Brown and their colleagues for their support and interest in our charity."
Cllr Davies said: "The Wingate Centre is such an excellent facility for both disabled and able-bodied children, we were delighted to be able to help.
"With improved access, the centre will be able to offer its services to a much wider audience and help a great number of children with disabilities.
"It is definitely money well spent here. I know when I was Mayor of Crewe and Nantwich ten years ago, we raised £12,000 for a specialist gym mat for the centre – and that mat is still being put to good use here today."
Centre manager Rona Moroney received the cheque from deputy leader of Cheshire East Council, Cllr David Brown.
He said: "I am so pleased to be here at The Wingate Centre to hand this cheque over.
"When you come to a fantastic centre like this and see what will be achieved with the money, you know that providing funding to be used for projects just like this is so worthwhile."
The centre is an independent charity devoted to enriching the lives of young people with physical and learning disabilities, including autism.
The Wingate Special Children's Trust, which began in 1988, provides short break residential services for special needs schools, family and voluntary groups together with recreational and gymnastic facilities.