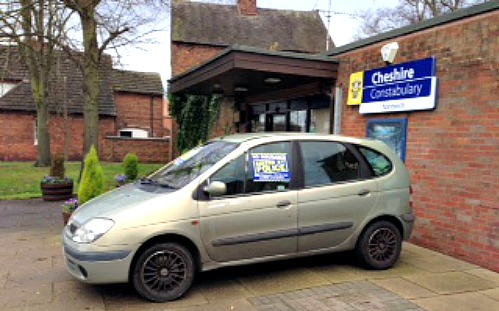 A vehicle seized by police is now on display outside Nantwich police station on Beam Street.
It's one of a number of cars seized by officers from drivers with no insurance as part of a latest crackdown.
Vehicles which were seized are being shown outside every police station around the county, including Northwich, Widnes and Ellesmere Port police stations and a Siver Mercedes outside the force headquarters in Winsford.
Cheshire Police Assistant Chief Constable Mark Roberts said: "Unfortunately there are a small number of people who believe it is acceptable to drive without car insurance, and the purpose of our campaign is to inform them it is not the case.
"Driving without car insurance is a serious offence, which can result in disqualification from driving, a minimum of six penalty points and a fine of up to £5,000.
"If you are caught driving without insurance you will also face the prospect of having your vehicle seized at the roadside.
"I want to send out a clear message that driving without insurance is not acceptable.
"We have access to a variety of tools, such as ANPR cameras and insurance databases, which allow us to instantly check whether or not a vehicle is insured, and any motorists who fail to adhere to the law will be punished."
Research by the Motor Insurance Bureau suggests uninsured motorists cost law abiding drivers an extra £33 a year in car insurance.
Assistant Chief Constable Roberts added: "We know uninsured drivers are more likely to commit other offences and many of the vehicles they drive are unroadworthy, meaning they pose a real danger to other road users.
"By removing uninsured vehicles from our streets we are able to make our roads safer.
"Any vehicles we seized will be taken to a secure compound and the owners are not able to collect their vehicle until they can prove that the vehicle is taxed, insured and has a valid MOT.
"I urge anyone who suspects that somebody they know is driving without insurance to contact Cheshire Police on 101 so that we can work together to make our roads safer."
Alternatively information can be reported anonymously through Crimestoppers on 0800 555 111.