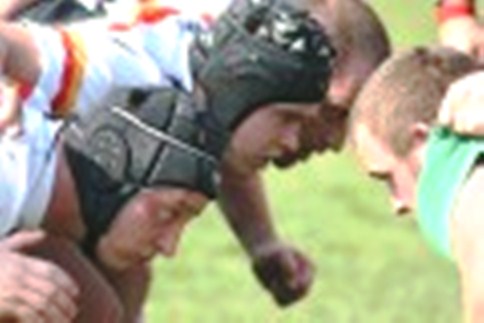 Crewe & Nantwich RUFC overcame relegation-threatened Old Silhillians 31-30 in a classic encounter.
Crewe started well with the forwards setting a good platform in the hosts' 22 for the first 15 minutes.
However the support was lacking at times and Crewe could not turn early pressure into points.
Sils managed to turnover Crewe possession and their scrum-half kicked clear.
Then Crewe full-back Toby Ward collected and off from the halfway line, passed to wing Joe Gammage.
Gammage beat two defenders with pace and swerve and while heading for the right hand corner was tackled five metres short but his momentum carried him over to score a fine try.
After 20 minutes, Sils were rewarded with a catch and drive try from a five metre lineout converted by their fly-half.
Sils kicked a penalty for Crewe not rolling away in the tackle to take the lead.
On the stroke of half-time, Crewe scored a pushover try from a five-metre scrum with a fine team effort scored by No 8 Kirk Robinson leaving the score 12-8 to Crewe at half-time.
After the break, Sils ran out of their 22 and their centre was tackled and turned over by Robbo Roberts, who set off down the touch line and linked with replacement prop Ian Merrill.
He switched to Pat Fray who was unlucky to be tackled just short of the line.
But from the ruck, scrum-half Charlie Hutchings moved the ball to Ward who scored in the righthand corner which he converted.
Another try secured the bonus point as flanker Josh Collins fed Merrill, who made a 35 metre run midfield into the Sils 22 to set up a ruck.
The ball was fed to skipper Niall McGregor and then to Ward to score in the corner.
Sils replied with a try from another error in the Crewe 22 and scored through their backs.
And they added another from a similar scenario as the Sils took a 25-24 lead with 10 minutes to play.
Crewe hit back when Kirk Robinson drove into the Sils 22. The ball then went through hands to Ward then Gammage, who cut inside to make the scoring pass to Mike Greatbanks.
The try was converted by Ward for a 31-25 lead.
But they almost threw it away in the last minute when an unforced error with a poor offload resulted in an unconverted try by the Sils flanker.
Crewe hung on for a 31-30 victory as Sils put the visitors under intense pressure in the final seconds.
"There were some great tries but the general play was not the usual standard expected from the 1st XV," said Crewe & Nantwich director or rugby Andy Brown.
"Despite a somewhat disappointing performance, some excellent tries were scored and the away win was secured with a bonus point."
It leaves Crewe in 4th position in Midlands 1 West.
They face local rivals Stoke-on-Trent in 5th place next weekend.
The following week is the Cheshire Vase Final v Wilmslow on Easter Saturday, kick off 3.30pm, at Winnington Park.