Organisers of the new Nantwich Lake Wildlife Conservation group say the first meeting was a big success.
Around a dozen people came together at the lake to discuss plans to improve the lake and surrounding area.
Two volunteers from Stapeley Grange RSPCA centre also joined the team.
Organiser Caron Hull, who helped set up the Queens Park Conservation group last year, said: "It's great to have the support and advice of RSPCA volunteers.
"Plans are now in place to progress with the group and start research into what would work and benefit all the wildlife there."
Noreen and David Moseley, who have lived on nearby Shrewbridge Road for 38 years, are among those in the new group.
Noreen said: "When we moved into this house there wasn't the wildlife on the lake and the traffic wasn't a problem.
"Many houses in the area have ducks nesting in their gardens and very often the traffic is stopped to allow mum and her ducklings to cross the road to get to the lake.
"But in the last few years we feel things have gone from bad to worse.
"For years we have taken injured wildlife to Stapeley Grange RSPCA centre or buried the dead.
"The thing which injures or kills most of the wildlife is the speed of traffic, attitudes towards the animals, and dogs whose owners are unable to control them.
"We hope we can work with the council to provide a safer place for the wildlife and I know there will be no shortage of volunteers to help to improve and maintain the area making it better for swans and ducks."
Another meeting will be held on Saturday May 2 at the lake at 3.30pm.
"We will report any information we have gathered from the RSPCA and the council. It's great to know many people share our concerns," added Caron.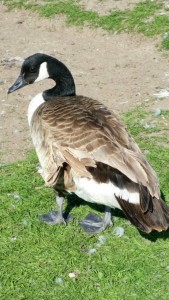 Caron was keen to launch the group after stories of wild birds being killed on the nearby road, and being attacked by dogs off leads.
They also want to raise awareness for the public on issues like feeding the birds.
"One Canada goose at the lake has Angel wing, and this is caused by being fed white bread," she said.
"This condition won't kill him but he is now unable to fly, making him very vulnerable."
One of the swans now living at the lake was a cygnet born to a family at Queens Park last year.
Anyone interested in joining the group and finding out more can contact Caron on 07880 353 221.