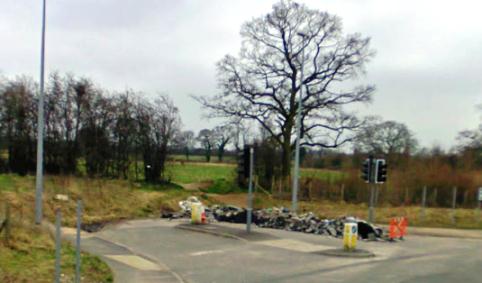 Muller Property is to fight a Government ruling to throw out plans for a 1,100-home 'Nantwich South' village in Stapeley.
Councillors were told the news that the company has applied to have the case judicially reviewed by a judge in the High Court.
It comes just six weeks after the Secretary of State announced he was refusing Muller's plan, which was subject to a four-day public inquiry more than 12 months ago.
Campaigners and councillors welcomed the Government's decision in March, but have now voiced concern that Muller is to continue the fight.
The inquiry in February 2014 was in to two separate planning applications, seeking permission for the first 189-homes on land bordered by Peter de Stapleigh Way, London Road and Audlem Road, as well as an access road into the proposed development (pictured, above).
Nantwich South and Stapeley Cllr Andrew Martin said: "It it is understood that Muller has appealed to the Court, the Secretary of State's recent decision.
"This is despite the strong local opposition, the refusal of the application by Cheshire East Council and the recent refusal by the Secretary of State.
"Peter Groves and I will continue to oppose the application by Muller.
"This is of course disappointing, but Muller has a legal right to do this and it seems he has.
"But even if a judge over-ruled the Government's decision and finds in Muller's favour, there would have to be another public inquiry.
"I don't believe the court itself can give planning permission, so it could be another 12-18 months down the line.
"That's why it's all the more important by then we have a Cheshire East Local Plan and Stapeley Neighbourhood Plan firmly in place."
Reaction to Muller's decision has already been swift and critical, on the Protect Stapeley Facebook group.
Parish Councillor Matthew Theobald said: "This underlines the need for our community to get a Neighbourhood Plan in place.
"There's plenty to get involved with over coming months, with support from residents, landowners, people who work or visit the parish."
Thousands of questionnaires on the proposed Stapeley and Batherton Neighbourhood Plan were sent to residents and collected in March.
Nantwichnews has contacted Muller Property and are awaiting a reply.