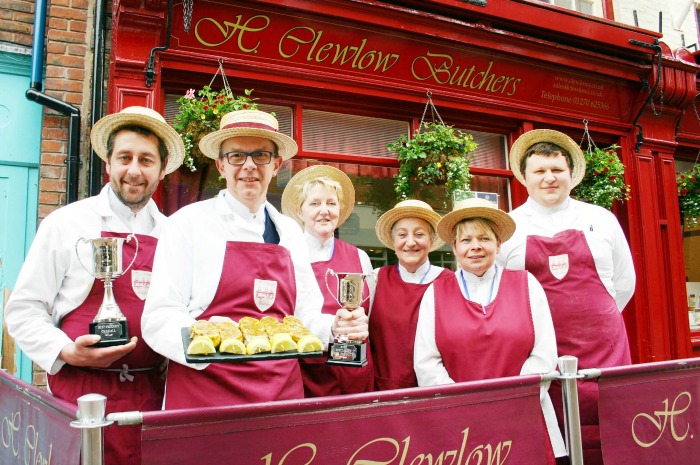 A Nantwich butcher has proved a cut above the rest in the UK after being crowned supreme champion in the 2015 Q Guild BBQ competition.
H Clewlow Butchers, on Pepper Street, won the coveted overall prize for their Best Speciality BBQ Product, sumptuous Thai pork medallions.
It makes it officially the best barbecue product in the country – and they won at the first attempt.
They beat competitors from all over the UK in the contest run by the Q Guild, which represents 110 award-winning butchers from the Scottish Highlands down to the south coast.
H Clewlow's winning product was created especially for the 2015 barbecue season.
The tenderloin is wrapped in home-cured streaky bacon, in a Thai marinade coating with lemon and lime.
The high-welfare pork is from British White Landrace pigs reared locally and naturally at nearby Reaseheath College.
Charles Clewlow, owner of H Clewlow Butchers, said: "The development of our Thai pork medallions was an all-round team effort.
"We have already started selling it in the shop and it is our product of the month for June. It's going down great guns – customers who try it are coming back for more.
"As well as being an ideal BBQ product, if the weather takes a turn for the worse it is equally easy to cook indoors, either under the grill or fried.
"It is such a versatile product – not over-complicated, and while it looks really special it is not difficult to make. Simplicity is the key – it's just that everything works so well together.
"We decided to give it a shot and are absolutely over the moon to be chosen as champion of champions in a competition that attracts some of the best butchers in the land."
H Clewlow, which has been in Nantwich for 25 years, employs a ten-strong workforce.
It has been a national finalist in the competition with its Bistro steak, and picked up gold awards in all other product categories in the regional finals.
The national final was held on Sunday (May 31) at the Windmill Village Hotel in Coventry.
David Lishman, national vice-chairman of the Q Guild, said: "This is the great culmination of our annual BBQ competition. There have been 350 products put forward this year and these are the elite – the cream of the crop.
"We're all going to have a really good barbecue season when the sun does finally begin to shine!"