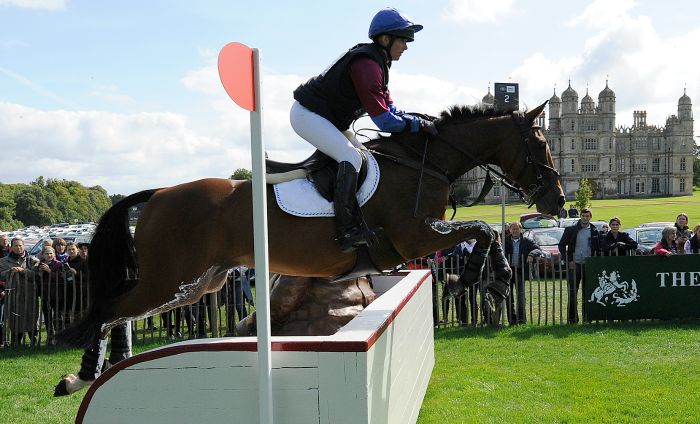 Nantwich horse rider Hannah Bate has admitted her report card from 2015 Land Rover Burghley Horse Trials would have read 'could do better'.
Bate and Finbury Hill ended in 29th place after struggling in the showjumping finale yesterday (September 6).
Germany's Michael Jung finished the weekend top of the leaderboard.
While Bate might not have been happy with her overall standing, it wasn't because of any lack of consistency as the duo started with an excellent 47.2 in the dressage.
They moved up one place on Saturday with a clear run of Captain Mark Phillips' reversed cross-country course.
But two faults in the showjumping left them back in 29th.
And Bate admits it was disappointing to end with faults after Finbury Hill went so well in the cross-country.
"I'm never happy if I have fences down but at the end of the day he tried and he actually had a good round so it's just a bit disappointing," she said.
"He had the same fence down last year and he jumped it exactly the same and just hoofed it out of the way.
"It's disappointing to knock the second one down because it's a long way around but he jumped well enough so I'm happy with that.
"He felt good this morning after the cross country so maybe I saved a little bit too much on the course but it's hard to gauge these things."
The Land Rover Burghley Horse Trials is one of six four-star events in the world and sees the best riders from across the globe descend on Lincolnshire to pit their wits against each other.
And Bate says the overall experience of riding with the best in the business is one that will help her and Finbury Hill improve in the future.
"It's been a good Burghley experience and I am happy with him. It's always nice to end on a better not but with him you never know," she added.
"He could jump clear or he could have three or four down, he can be quite temperamental and can find it quite difficult.
"He'll have a holiday now and will have the same plan next year.
"We don't run him very often, he'll jump in the new year and will have one or two runs before Badminton and one or two before Burghley.
"He's a bit older and doesn't need to go cross country all the time and it suits him that way so hopefully we'll be back."
The multi-award winning Land Rover Burghley Horse Trials (September 3-6) has been established as a major international equestrian and social event in the Autumn sporting calendar for more than 50 years.
For more information visit www.burghley-horse.co.uk
(Main picture courtesy of Peter Nixon, copy provided by Sportsbeat)