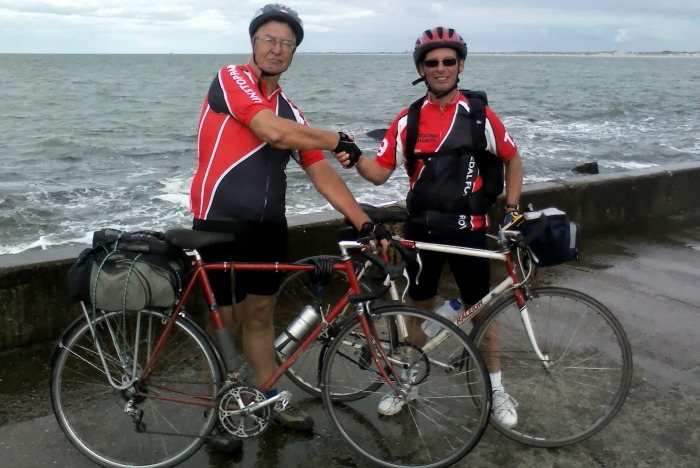 Saddle-sore cyclists Ben Reinhardt and Jim Forkin pedalled all 922 miles of the River Rhine to raise money for blood cancer charities.
The friends, from Willaston and Crewe, started their "Riding the River Rhine" adventure at the source of the Rhine in the Swiss Alps at Lake Toma.
And for 15 days, they followed the river as it flowed through Switzerland, Germany, Austria, Liechtenstein, France to its mouth into the North Sea at the Hoek van Holland in the Netherlands.
They battled heavy rain and high temperatures, and suffered damaged wheels and tyres, five punctures, along with a rebuilt front axle and pedal crank.
Their achievement has raised more than £900 for the charity Bloodwise, formerly known as Leukaemia & LymphomaResearch.
Ben, a committee member of Bloodwise (South Cheshire Branch), said: "Myself and Jim had to battle the elements, the issues with our bikes and the terrain.
"However, it was worth all the effort as we have raised several hundred pounds for Bloodwise.
"We would like to thank all the generous people who sponsored us for our ride, as we know that it will help the charity to continue to find cures for blood cancers."
Liz Boffey, chairwoman of Bloodwise (South Cheshire branch), said: "Bloodwise South Cheshire are incredibly indebted to Ben and Jim for their awe-inspiring bike ride.
"Their 'Ride The Rhine' challenge has been achieved on time and is a fantastic tribute to all their hard work.
"Every penny that is raised goes into researching all the 137 blood cancers."
Ben and Jim are still accepting sponsorship money.
You can donate online at https://bloodwise.org.uk/fundraising/riding-river-rhine