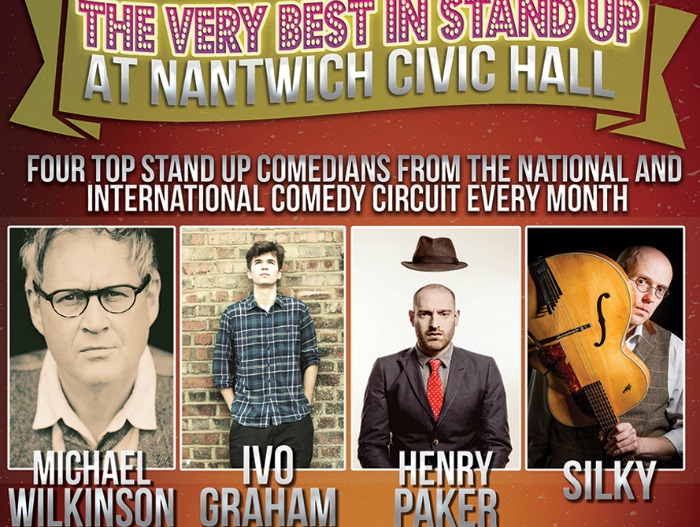 Four top comedians produced a wonderfully diverse three hours of comedy at first Very Best in Stand Up of 2016 in Nantwich.
This ever-popular monthly gig continues to deliver high quality entertainment – and the latest show was no different.
A packed Civic Hall was treated to quality acts, all linked superbly well by compere Mike Wilkinson, who for many was the star of the show.
Henry Paker was in the opening line-up of first Very Best In Stand Up back in 2009 at Crewe's former M Club.
He probably had more hair back then – and he made a big play on that during his fine return.
With his mixture of class gags and sharp observational humour, it's easy to see why he is sought after by the producers of shows like Mock the Week, 8 out of 10 Cats, and Never Mind the Buzzcocks.
Memorable moments include his love of the French for turning anger into arousal!
Young comedian Ivo Graham is being tipped for big things – and his performance at the Civic gave us all a glimpse of what's to come.
The 25-year-old poked fun at himself and his privileged Etonian upbringing…much to the hilarity of the audience!
His quick-fire routine matched perfectly with his educated delivery – so much so some if his one-liners probably passed over many heads.
Final act was guitar-wielding Silky, a former finalist in the BBC New Comedy Awards.
For the older comedy fans among us, there is certainly a touch of Jasper Carrott and Mike Harding in this act – superb writing, rapier wit, and clever songs.
His affable charm was a fine closing act for an appreciative Civic Hall crowd.
Compere Mike Wilkinson's 10 years of experience was the perfect ingredient to top off the night.
The three hours flew by – and the crowd wanted more. A sign of success in any live stand-up night.
Civic Comedy promoters return with their Very Best in Stand Up on Friday March 4 – don't miss out.