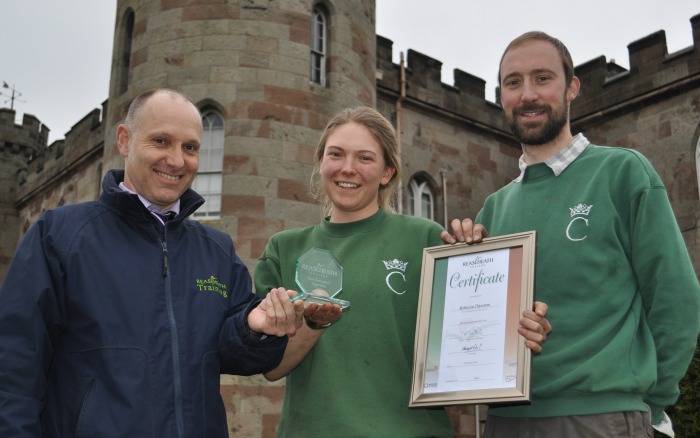 An apprentice gardener at Cholmondeley Castle Gardens has become Reaseheath College's 'Horticulture Apprentice of the Year'.
Rebecca Dawson, 26, received her award at a college ceremony in Nantwich during National Apprenticeships Week.
She was one of 150 apprentices who have gained their qualifications at the Nantwich specialist college in the past year.
She is one of seven gardeners who look after the historic gardens and grounds at Cholmondeley, which attract thousands of visitors each year.
Reaseheath's award was the second prestigious accolade Rebecca has received since she became an apprentice just over a year ago.
She also holds the national title of 'New Gardener of the Year 2015', presented by the Professional Gardeners Guild to the top new entrant to the industry.
Barry Grain, head gardener at Cholmondeley, said: "Rebecca is exactly the sort of person we need to attract into the industry.
"She is young, committed and passionate and really wants to learn and get involved.
"Cholmondeley Castle Gardens are known as one of the best in the region and are part of our living history.
"We need young talent to help preserve and enhance historic gardens like ours for the future and are currently looking for another apprentice to join our team."
Rebecca attends Reaseheath once a week to learn academic and practical skills and is also supported by college assessors at her workplace.
At Cholmondeley, she has worked in all sections, including the popular terraces and temple garden.
She also helped to build Cholmondeley's award-winning show garden at RHS Tatton Park Flower Show and will work on a similar project at RHS Chelsea Flower Show this year.
Rebecca, from Chester, said: "An apprenticeship is a very versatile qualification which is becoming increasingly popular with employers.
"By choosing this route I have not only been able to enter the horticultural industry, but my future prospects have improved through the lifelong skills I've learnt and vital networking opportunities I've gained.
"I'm also very fortunate to work in such a beautiful and historic environment as Cholmondeley."
Rebecca's assessor Lyndon Smith said: "Rebecca is an outstanding apprentice and we were delighted to choose her as our award winner this year.
"Her portfolio of work is exceptional and her enthusiasm is infectious. She has become a vital team member at Cholmondeley, taking garden tours and answering questions from the public."