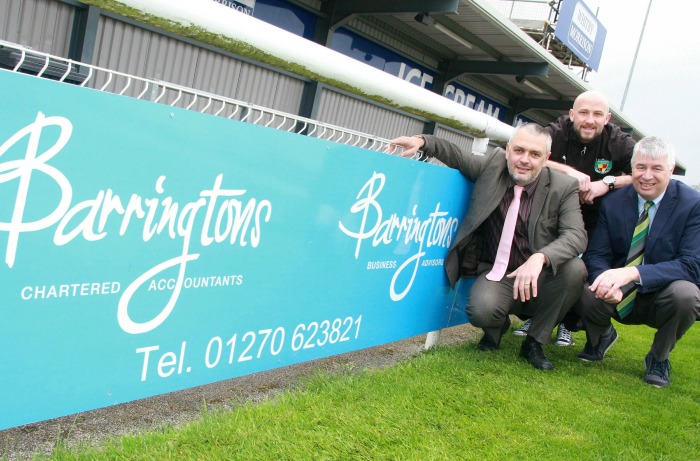 Barringtons Chartered Accountants have secured a new sponsorship deal with Nantwich Town FC.
The company has announced it is to back the Dabbers, who played their last game of the current campaign at home against Frickley on Saturday.
Andrew Wilshaw, a director at Barringtons, said: "We love being part of this lovely town and its thriving business community.
"The football club adds to the feelgood factor and we are delighted to be on board as a sponsor in what has been a very memorable season."
Nantwich Town won through to the FA Trophy semi-final in March.
Now the club is ending the season with its highest ranking in the Evo-Stik League Northern Premier for 10 years, finishing eighth.
Mr Wilshaw added: "The FA Trophy was a David and Goliath clash placing Nantwich just one game away from Wembley.
"Although they didn't make the final, it was a huge achievement to get so far in a major tournament."
Barringtons is celebrating five years in Nantwich where it handles accounts of businesses and organisations as well as the football club, which also runs a shop and function suite.
The firm, with a head office in Newcastle, is a long-standing member of the South Cheshire Chamber of Commerce.
Its team includes more than 40 specialists in tax, VAT, payroll and wealth management.
Nantwich Town chairman Tony Davidson said: "The FA Trophy battle has generated a lot of interest in the club and pushed up attendances.
"It's great to end the year on a high and welcome Barringtons as a sponsor."