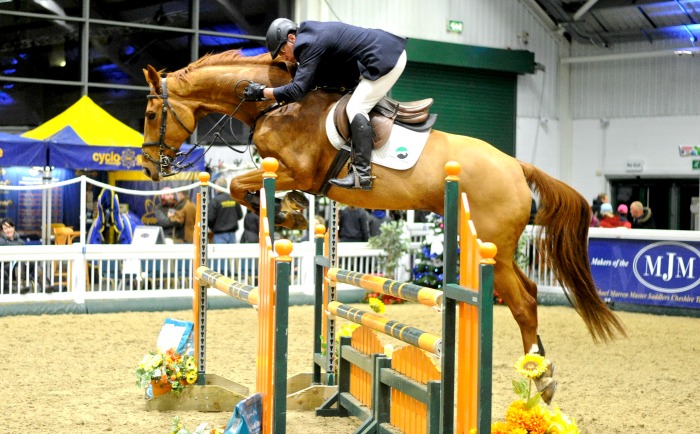 Tarporley rider Campbell Thompson scooped a win at the Dodson & Horrell National Minor Veteran Riders Championship in Liverpool.
Campbell notched up his first Championship win on board Rubiroso JX, a 12-year-old chestnut gelding owned by Keith Shore, at one of the premier showjumping events on the calendar.
He beat thirty-three other combinations, securing victory from a six strong jump-off.
Just three double clears were produced and Campbell's time of 38.07 seconds proved to be unbeatable.
He said: "This win is a personal highlight for me as I've never won a Championship title before.
"I had two horses in the jump off and after falling from my first ride, it was great to go on and win.
"I've had the ride on Rubiroso JX for seven months now and everything fell into place and we clicked.
"He felt beautiful in the jump off and was really trying for me over a strong course.
"He's a big striding horse who turns neatly whilst moving on."
Six National Championship titles were up for grabs in five days of showjumping.
The National Amateur Championships gave riders and horses a chance to contest an end of year final across four different heights of fences – 0.85cm, 0.95cm, 1.05m and 1.10m.
Sam Horrell, CEO at Dodson & Horrell, said: "The National Amateur & Veteran Championships are a fantastic event to be part of, we have been lucky enough to have supported it for a number of years and see it go from strength to strength.
"It's great to see so many returning competitors and our congratulations go to all the championship winners.
"The event would not be such a success without the excellent organising team at Aintree Equestrian Centre, British Showjumping and of course all the competitors, friends and families. We look forward to seeing you all again next year."
For details on all results, visit www.aintreeequestriancentre.co.uk
(Picture courtesy of Majestic Photography)