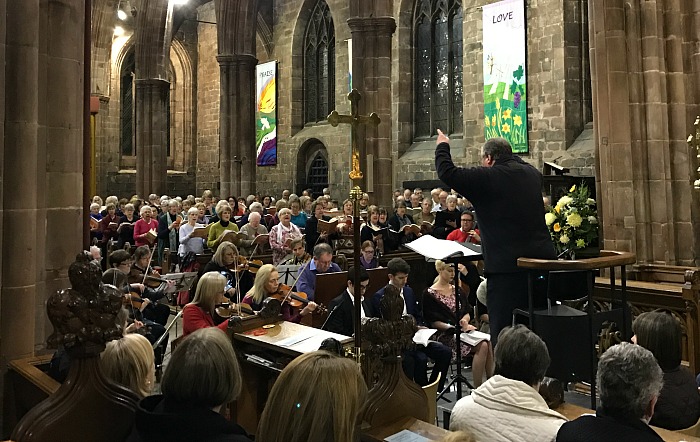 Singers from around the UK joined Nantwich Choral Society for a one-off 'Come and Sing Handel's Messiah' concert at St Mary's Church.
The extras swelled the choir to 201 people, who were split into sections within the church's Nave by tenor, soprano, contralto, and bass.
Handel's Messiah also featured Royal Academy of Music soloists Alice Privett (soprano), Rosamund Thomas (mezzo-soprano), Richard Dowling (tenor) and Jacob Phillips (bass).
They were supported by a fully professional orchestra – The Nantwich Sinfonia – with leader Alison Loram on violin.
The conductor was John Naylor.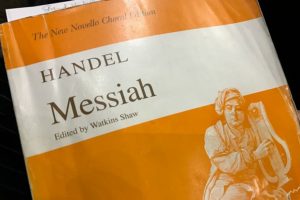 Handel's choral masterpiece – 275 years old this year – tells the story of Jesus' birth, life, death, resurrection, and final victory over sin and death.
The audience enjoyed the concert from the Church's Crossing located between the South Transept and North Transept.
Future Nantwich Choral Society events in 2017 include:
– Sunday March 26 – 3.30pm – Nantwich Civic Hall. 'Mendelssohn: Elijah' with The Northern Concordia Orchestra.
– Saturday July 15 – 7.30pm – St Mary's Nantwich. 'John Rutter: The Sprig of Thyme and Magnificat' with Ensemble Arpègede Mâcon and The Nantwich Sinfonia.
– Sunday October 22 – 3.30pm – Victoria Hall, Hanley. 'Verdi: Requiem' with Ceramic City Choir and The Northern Concordia Orchestra.
For more on Nantwich Choral Society, email [email protected] or visit www.nantwichchoral.org.uk
(words and pictures by Jonathan White)