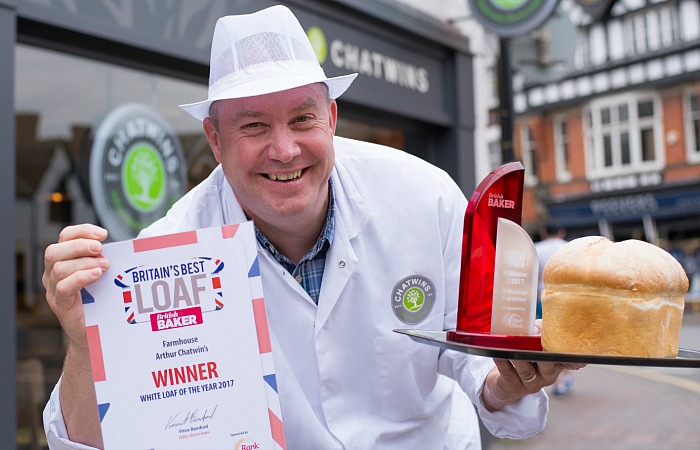 Nantwich bakery business Chatwins has sliced through the competition to become the country's champion for white bread.
Chatwins fended off competition from 150 bakers to win top honours in the white bread category at the 'Best British Loaf' contest at the Birmingham NEC.
With more than 100 years of bread-making experience under its belt, the company was the star of the British Baker magazine's annual showcase for baking excellence.
Its large floured white farmhouse, a top-seller in all its 20 shops, was honoured by industry judges for its taste, texture and appearance.
And the glory didn't stop there for the historic firm which was also Highly Commended for its delicious multi-seed loaf.
Bakery manager Nigel Attwell, who runs the night shift, was there to pick up the prizes.
He said: "For years we have believed no other baker can beat us on freshness and taste and this recognition goes to prove it!"
The firm was founded in Nantwich in 1913 by John Chatwin whose mission was to bake the county's tastiest bread.
Today, his great grandson Edward Chatwin is at the helm and still using the traditional baking skills that have secured a reputation for quality as well as many accolades down the decades.
Edward said: "It's great to be part of a business that is so highly regarded.
"Our mission is simple. We want customers to enjoy every mouthful of their chosen product which is why we rigorously maintain standards and quality control.
"We have expanded the range down the decades and opened coffee shops.
"But it all began with bread so it is great to see our craft baking skills, honed over more than a century, rewarded at a national level."
Chatwins, which celebrates its 104th birthday this year, is one of the strongest brands in Cheshire – famed for its hand-crafted bread, cakes and pastry products.
It's also a major employer with more than 300 bakers and shop staff working from its outlets across Cheshire and Staffordshire.
Over the past three years it has rolled out a rebrand of its shops, with Sandbach being the latest to get a make-over.
The transformation has seen it extend into a former photography shop next door to create a café area which has doubled footfall.