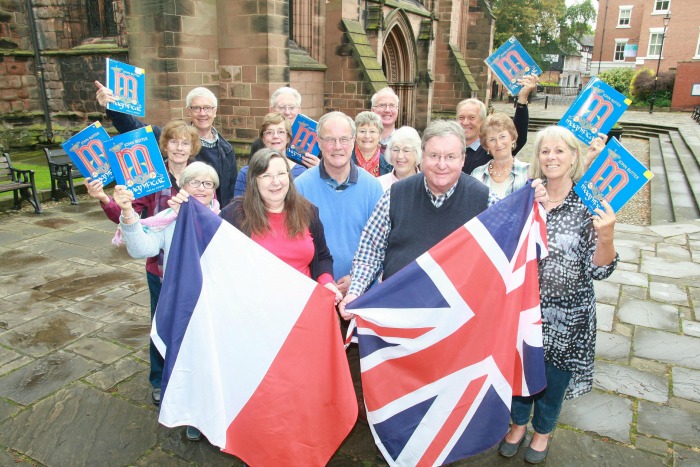 Nantwich Choral Society is celebrating the 60th anniversary of special twinning links between Crewe and Nantwich and Macon in France.
Choir members travelled to Macon to perform a concert with their French counterparts as part of an exchange commemorating their long friendship and love of music.
They joined L'Ensemble Arpege de Macon yesterday (May 27) in presenting John Rutter's masterpiece 'Magnificat' before a large audience including twinning officials and French civic dignitaries.
In July, the French singers will visit Nantwich and stay for a weekend with local families.
Outings to places of interest are planned and the Choral Society, in partnership with Crewe and Nantwich Twinning Association, hope local people will give them a warm welcome when they perform a joint concert at St Mary's Church in Nantwich on July 15.
The performance, accompanied by a professional orchestra, will include a rousing rendition of the French and English anthems.
Society spokeswoman Elizabeth Lea said: "The notion of twinning, known elsewhere as sister cities or friendship towns, is a tradition stretching back almost a century in the UK.
"The practice took off in earnest after World War II, with community leaders keen to heal the divisions of conflict and seek support in rebuilding a post war spirit of reconciliation.
"There are almost 2,000 formal twinning arrangements in the UK, and 50% are with France.
"This very special twinning between Crewe and Nantwich and Macon has promoted friendship and mutual understanding since 1957.
"It remains untarnished by politics of the day and our two choirs have a strong bond cemented by our love of culture, music and art.
"We are excited to be going to Macon again and to welcome the choir here to Nantwich in July."
Macon, in the Burgundy region of France, is home to more than 30,000 residents referred to as Maconnais.
South Cheshire will honour its relationship with the Maconnais on July 14 when a reception is staged for the French guests at Nantwich Civic Hall.
For tickets to the July 15 concert, performed by the Nantwich and French singers, visit www.nantwichchoral.org.uk
(Pic: Nantwich Choral Society have set off to France with their music scores to mark the 60th anniversary of twinning with Macon)