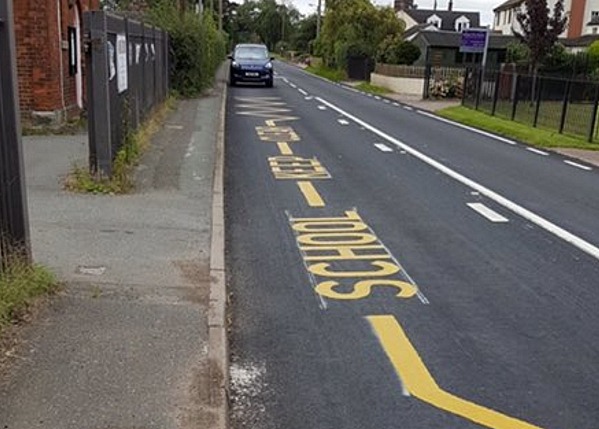 Highways staff were left red-faced after painting bright yellow 'school' warning signs outside a village school near Nantwich which closed 10 years ago!
The clanger was made outside the old Buerton Primary School on Woore Road near Audlem.
It was spotted by amused locals, and Cheshire East Council highways officials had to dash out to remove the error.
One resident, Joe Hoyles, tweeted: "Buerton School closed in 2006. There's been a business there for 10 years.
"Two weeks ago the road was remarked 'School – Keep Clear' in bright yellow!
"Come on Cheshire East. You could not make it up!"
Cheshire County Council agreed to close the village school in September 2006, when pupils were moved to Audlem St James' Primary.
Cheshire East Council has admitted the blunder and has now sent out staff to remove the lines.
But a spokesman denied there was any cost to the taxpayer.
"Yes, they made a mistake and the lines were removed," the spokesman said.
"There was no cost incurred by the tax payer for this work.
"The keep clears outside the school were a small part of a much bigger road marking reinstatement job on that road, likely to include centre line, any slow down/keep clear wording, and lines marking traffic restrictions such as double yellows.
"This work was being completed following surface treatment of the road.
"So, while there was a clear mistake made, the road is safer following the overall works that have taken place."
(Pic courtesy of Joe Hoyles)