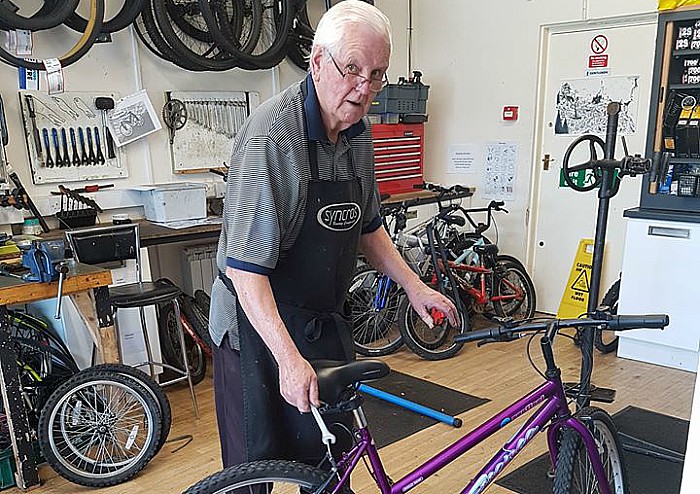 Shavington pensioner Dave Williams shows there is no age barrier to getting back in the work saddle!
The 74-year-old has just been appointed as a new cycle mechanic at Crewe-based Community Recycle Cycles shop and training service.
Dave has joined the team based on Coronation Crescent as a part time mechanic, working alongside full time Glyn Phillips to help train young people from all over Cheshire.
The aim is to help youngsters go onto further education or employment, using the skills they have gained.
Community Recycle Cycles was set up in 2012 to repair customers' bikes and take in donations of bicycles, repairing and restoring them where possible to sell on at affordable prices.
The company then expanded to start training volunteers in cycle maintenance and business skills.
Dave said: "I used to manage an independent bike shop but when it closed down I was keen to put my skills to use.
"Community Recycle Cycles is absolutely perfect.
"I am kept busy and love working with the young people and volunteers."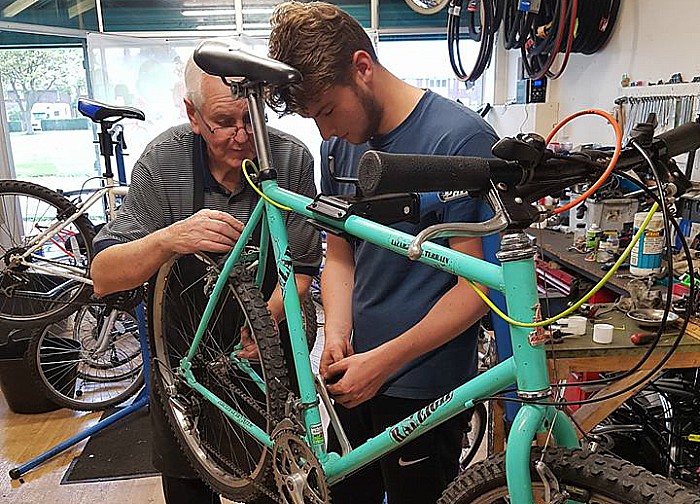 Director Annette Cormack said they were delighted to have Dave on board as the company grew 40% last year. It has four full time staff and eight volunteers as well as three directors and seven members of an advisory group.
"We offer a fully inclusive experience, supporting volunteers who may have physical and mental health or social problems to overcome, helping them to move on to further education or employment if desired," said Annette.
"It's a busy time!. We're delighted to have Dave on board as we grow."
In the last year, Community Recycle Cycles has worked with UTS students, Duke of Edinburgh students and pupils from schools across Crewe and Nantwich.
This support element of Community Recycle Cycles was first introduced following business advice provided at no cost by the ERDF-funded Cheshire and Warrington Business Growth Programme.
Annette attended a programme delivered by Manchester Metropolitan University designed to support SME's with their business challenges.
"The courses helped me see the direction the company needed to go in and provided me with excellent one-on-one support and training to achieve this through targeted marketing and recruitment," she added.
"With the help of our volunteers – and Dave – we now train even more young people and also deliver free bike checks all over the county.
"Having a range of ages working together promotes community cohesion, develops understanding between people and helps to combat social isolation for those who may feel they have lost their role in the community.
"It also helps develop confidence and social skills in younger people."