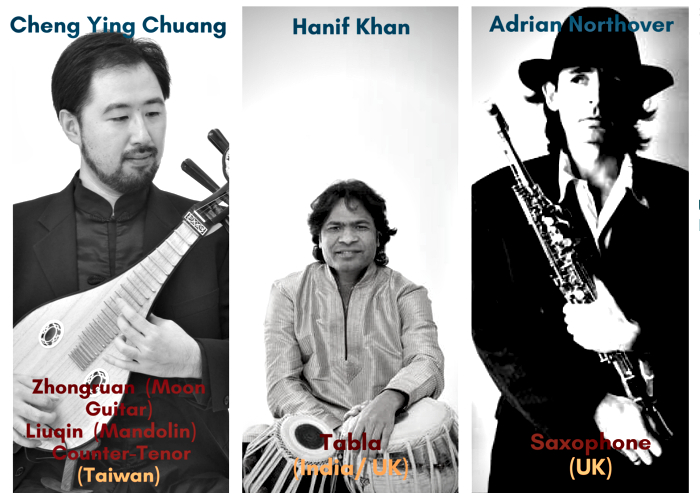 A Classical Fusion Concert where the Orient meets the Indian Subcontinent is coming to Worleston Village hall near Nantwich.
The show will bring together an international vibe with highly-acclaimed artists from Taiwan, India and UK.
Cheng Ying Chuang was trained both in China, Taiwan and Birmingham Conservatoire, and will be coming to Nantwich fresh from a US and inter-continental Tour.
He performs Zhongruan (Chinese Moon Guitar)/Liuqin (Mandolin) and is a Counter-Tenor Vocalist.
Hanif Khan is one of the highly sought after UK-based Tabla players, now on tour with UK Productions stage adaptation of the Khaled Hosseini novel, The Kite Runner.
He has performed in private functions for HRH Prince Charles and Sir Paul McCartney, among other collaborations at international festivals such as Womad, Glastonbury and more.
Adrian Northover is one of London's Jazz Club Soprano Saxophonists, equally versed in global fusion sounds.
Majenta is a London-based teacher and performer who will perform alongside her Jewelled Bedlah locally based dance group.
Majenta has performance credentials including The Indian Tourist Board, Prime Minister of Bangladesh, The National Film Theatre and more.
The show is on Friday July 6, doors open 7pm, show starts 7.30pm.
Tickets, available for advanced purchase only, are £10.
Email [email protected] for tickets or inquiries for payment methods.