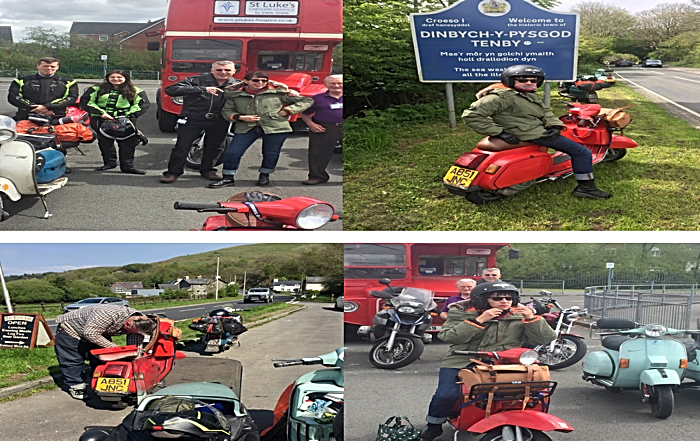 A history teacher from Nantwich turned back the clock to take part in a vintage scooter ride for charity.
Sarah Vaughan, Malbank School and Sixth Form College Head of History, let her hair down and rode her scooter from Nantwich to Tenby and back to raise money for St Luke's Hospice.
Her tutor group (10B) chose how the money should be raised and to support St Luke's Hospice, which has supported families of students and staff at the school for many years.
Sarah, who usually wears her hair in a bouffant style, came to school with her hair down and then set off on a scooter ride on her vintage PK50.
She said she knew it would be quite a challenge as the scooter did not go very fast and she had never travelled more than 70 miles!
The students set an initial target of £500 as they wanted to beat the £400 they raised in Year 7 for Help for Heroes.
All students at Malbank were shown a presentation showing the work St Luke's does, and Sarah's tutor group went around the school collecting and gathering sponsorship.
On the day of the ride, Sarah arrived at school on her scooter and with her hair down.
Every class was visited and more coins were collected.
With an escort of staff, students and the St Luke's Hospice red bus, she was waved off on her adventure. At 11am the next day, she arrived in Tenby.
The journey home took nine hours with one breakdown but Sarah made it back to Nantwich on Sunday night having spent a night in a tent in Tenby.
Angela Miller, Malbank business manager, said: "The Tutor Group raised an amazing £938.29 and are grateful for all the support that they received from staff, pupils and parents at Malbank School and sixth Form College!"
Sarah and her tutor group are pictured presenting a cheque for £938.29 to two team members from St Luke's Hospice.