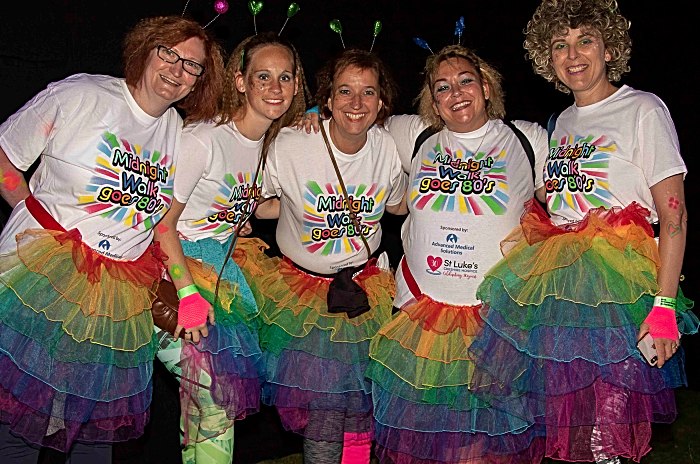 Hundreds of women dressed in 80s clothes did the Midnight Walk through the streets of Nantwich and Crewe to raise funds for St Luke's Hospice.
The Walk, returning for the 14th year, saw hundreds of ladies walk either the full 13.1-mile route or the "half moon" of six miles from Reaseheath College through the streets of Crewe and Nantwich finishing back at Reaseheath in the early hours of Sunday morning.
So far more than £100,000 has been raised or pledged by local women taking part in the Walk which is St Luke's biggest single fundraising event.
Jane Thompson, head of events at St Luke's Hospice, said: "We would like to thank all the women who took part in the event.
"And also to everybody who made the event possible including Reaseheath College, Manchester Metropolitan University Cheshire Campus, Willis brothers for organising the road closures and keeping everybody safe, all our stewards for supporting and feeding our walkers all through the night as well as Advanced Medical Solutions for generously sponsoring the event."
Many of the women walking on the night were doing it in memory of family and friends who were looked after by St Luke's Hospice in their final days.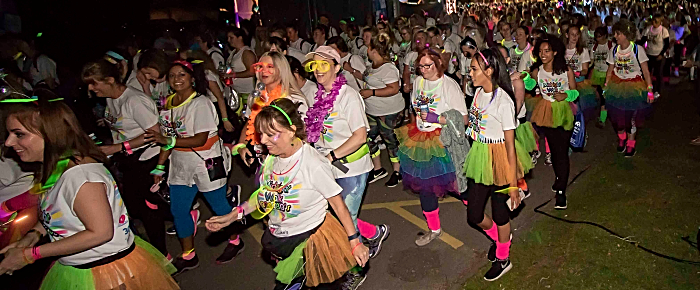 Michelle Barber, 44, a personal assistant from Crewe, said: "My late mum was a patient at St Luke's Hospice towards the end of her illness so I've seen first hand the amazing work the nurses carry out on a daily basis to make their patients final days as peaceful and comfortable as possible.
"I wanted the opportunity to give something back, to say thanks for all the hospice did in caring for mum, so signed myself up for The Midnight Walk to help raise vital funds
"And it's been an annual "must do" on my calendar ever since!
"I was joined at this year's event by friends Sarah and Francesca, who also dusted down their 80s leg warmers especially for the occasion!
"Being part of the The Midnight Walk is something I'm hugely proud of.
"It's a time to come together for an evening of laughter as well as a time for reflection, to remember those loved ones who are sadly no longer with us.
"The support you receive from your fellow walkers, the marshalls along the route and the hospice staff is superb and there's a huge sense of pride surrounding the whole evening.
"It makes those tired and achy feet worth it!"
Money raised from the Midnight Walk will fund two nurses at St Luke's this year, so events like this really do a make a difference.
Donations are still coming in so if you would like to donate, visit www.stlukes-hospice.co.uk/donate