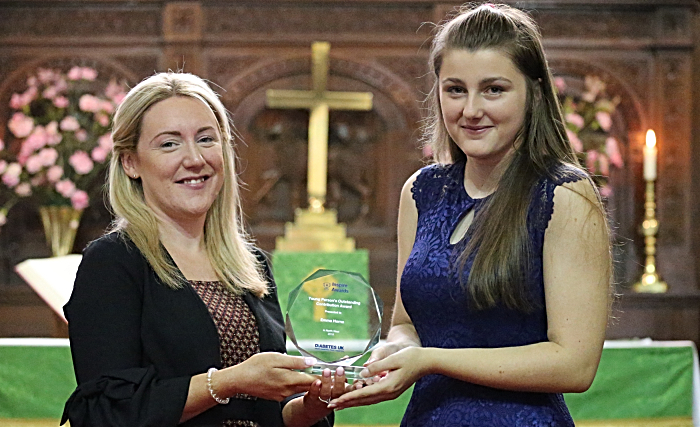 A Malbank student from Wistaston has received an award from Diabetes UK after raising funds to support vital research.
Emma Horne, 16, received the 'Young Person's Outstanding Contribution Award' during a service at St Mary's Wistaston.
The Malbank High School and Sixth Form College pupil raised £5,100 for Diabetes UK during her year as Wistaston's Rose Queen.
Emma chose to support the charity because she has friends and family with Type 1 diabetes including her sister, Laura, and her dad, Michael, who recently found out he has Type 2 diabetes.
Emma said: "I am proud to receive this award and would like to dedicate it to the congregation at St Mary's Church, Wistaston, who supported me through my year as Rose Queen and made it possible to raise such a fantastic amount of money."
Her fundraising events included tea dances, a onesie party, plant sales, Christmas fairs, a Chinese New Year-themed quiz, and a 2018 calendar featuring photographs from the events.
The money was donated to a diabetes research project being undertaken at The University of Manchester by Dr Jenny Myers, which is monitoring mothers-to-be with Type 1 or Type 2 diabetes and their unborn babies.
In women with Type 1 or Type 2 diabetes, their babies can grow too small or too large during pregnancy, and this is thought to be linked to the mother's blood glucose levels.
Emma added: "It was important for me to support Diabetes UK, and particularly this research, as my sister Laura has Type 1 diabetes and gave birth to a baby boy, Perran William Isaac, in September 2017."
Trevor Fudger, Diabetes UK Regional Fundraiser, said: "It's an honour to be able to present Emma with this award, and we are extremely grateful for all her hard work and the support of all those involved in her fundraising efforts.
"It has made a huge difference to people with diabetes and to our work to create a world where diabetes can do no harm."
To find out more about the research Diabetes UK supports visit https://www.diabetes.org.uk/Research/
(Pic by Jonathan White)