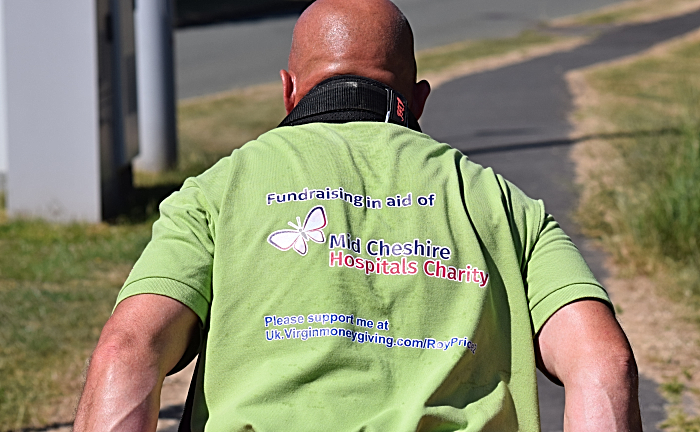 Charity pals Roy Price and Ian Jones are set to push their fund-raising wheelbarrow up Snowdon!
Roy, 51, and Ian, 46, both from Crewe, pushed their 100kg wheelbarrow to a staggering £2,700 when they walked 14-mile from Crewe to Nantwich and back.
They wore a bear costume and walked via a Garden Party at The Woodside in Wistaston and a charity night at the Bombay Restaurant in Crewe.
Now the pair's next challenge is on Sunday September 9 – this time they'll be scaling Wales' biggest mountain!
They plan to push their barrow in the same bear costumes up to the summit which stands 1,085 metres above sea level.
Roy and Ian are both raising money for the Macmillan Chemotherapy Suite at Leighton Hospital in Crewe.
Roy in memory of his wife Ruth, who died in February this year from secondary breast cancer.
Ruth was treated at the Macmillan Cancer Unit at Leighton Hospital.
Ian is doing it in memory of his mother, Janet Jones, who also died from cancer.
Their target is to raise £5,000 and in late September, Roy will aim to climb the Mount Kilimanjaro volcano in Tanzania – the highest mountain in Africa.
In readiness for Kilimanjaro, Roy is receiving training from EDGE Travel Worldwide via their 'Sofa to Summit' programme which includes health, nutrition, fitness and training along with UK walks.
Roy's latest challenge will be part of his training.
He said: "I faced my 51st birthday without Ruth, the first time in 30 years without her.
"It's been hard, very hard but the fantastic encouragement and community spirit has spurred me along.
"Myself and Ian would like to thank all the individuals and organisations who have given us their generous support."
To add to the fundraising total please visit https://uk.virginmoneygiving.com/RoyPrice2
(Pic, top, by Jonathan White, and below courtesy of Roy Price)