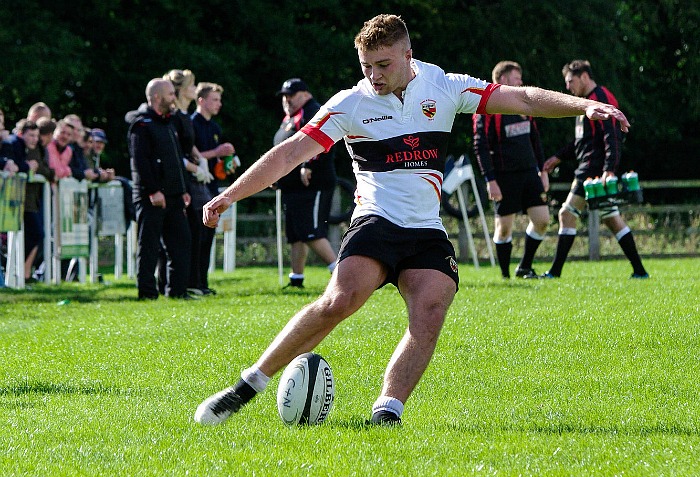 Crewe and Nantwich 1sts made it three consecutive league wins after thumping league leaders Tamworth 45-7 at the Vagrants.
Tamworth started well but could find no way through Crewe's well organised defence which was to be a feature of the game.
Crewe eventually turned the ball over and quick hands moved the ball up the pitch and from a scrum in the visitors 22 scrum half George Colebourne forced his way over, try converted by fly half Jim Creighton 7-0.
Crewe kept the pressure up and were awarded two penalties in quick succession, both well converted by Creighton for 13-0.
The home side were controlling the game and varying the play well, using centre Tom McGuire to set up ruck ball for the forwards or Creighton releasing his back line with a series of well worked moves.
This pressure gave Crewe another scrum in the Tamworth 22 which after a series of drives from the pack saw skipper Elliot Alstom force his way over, again converted by Creighton 20-0.
Tamworth were rattled and further ill discipline gave Creighton two more penalties which he converted to make the half-time score 26-0.
It was important that Crewe started the second half well which they did.
Tamworth eventually opened their account but not until 15 minutes onto the second period, a converted try making it 26-7.
However, Crewe bounced back straight away, fly half Creighton jinking over for a well taken try which he converted for 33-7.
Tamworth raised their game again but were well controlled by Crewe and this pressure forced them to run the ball from their 22 where vice skipper Josh McShane's well-timed interception put him in under the posts again converted for 40-7.
A series of lineout drives near the Tamworth line eventually saw prop Chris Sproston crash over in the corner for a good forwards try to complete the scoring and a memorable victory for coach John Farr's men.
After, Farr said: "I think this is one of those occasions when I'm supposed to say, "No one was expecting that!" but the reality is that it's exactly what we've been expecting.
"The boys train like that all the time, for one reason or another it hasn't been transferred to the playing field.
"I'm immensely proud of the players and management team as a collective.
"Moreover, I'm really pleased for them because they've finally displayed their potential and hopefully this will be the final step to really
believing in themselves.
"There were some tremendous individual performances, Ricky Evans getting man of the match – a nice tribute to his dog, however it was a day for the team as a whole."