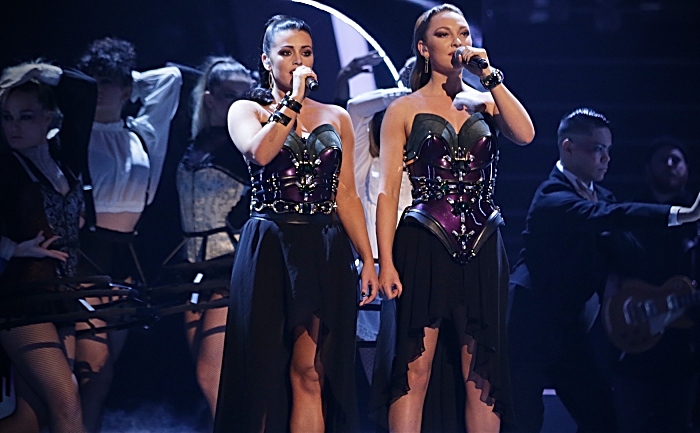 The Voice UK stars Belle Voci will be joined by 2018 winner Ruti for this summer's open air Shockfest music extravaganza in Cheshire.
Belle Voci opera duo Emily Burnett and Sophie Rowland – who met while working at The Yew Tree in Bunbury – who won through to the final of the ITV talent show in 2018.
Now they will be reunited with eventual winner Ruti for Shockfest on Saturday July 20 at Whitehouse Farm in Shocklach, near Malpas.
Several other contestants will also join them for a night of opera, acoustic pop and electronic music.
The line-up includes Lauren Banon, Lucy Milburn, Holly Ellison, Tesni Jones, Kalon Rae and Jason Nicholson-Porter.
Sophie and Emily (pictured, above), both 27, teamed up four years ago as Belle Voci – 'beautiful voices' – with the aim of taking a fresh approach to opera.
In The Voice final, they delivered a stunning performance of My Heart Will Go On, singing with celebrity coach Jennifer Hudson to an audience of five million viewers.
Their success led to a whirlwind year of engagements and the launch of two new albums.
Sophie said: "The contest was tough, but it was great fun.
"We were all friends throughout it, so it is really fantastic that Ruti can join us and the crew for our celebration gig.
"We predict a terrific night to thank everyone for their support."
Chester Aid for the Homeless will receive a £1 donation for every ticket sold plus further donations raised on the night.
Local brewers will supply a real ale a marquee alongside a craft gin bar and several artisan food stalls.
Tickets are £37 standard and £65 VIP, available online at www.eventbrite.co.uk and also from The Bull at Shocklach, The Carden Arms in Tilston, and the Cheshire Art Hub, Mickerloo Barn, Burdwardsley.
Overnight camping will be available.
Since The Voice success Emily and Sophie have launched two albums and have bookings for UK and international events.
(Pic of Belle Voci courtesy of © ITV plc)