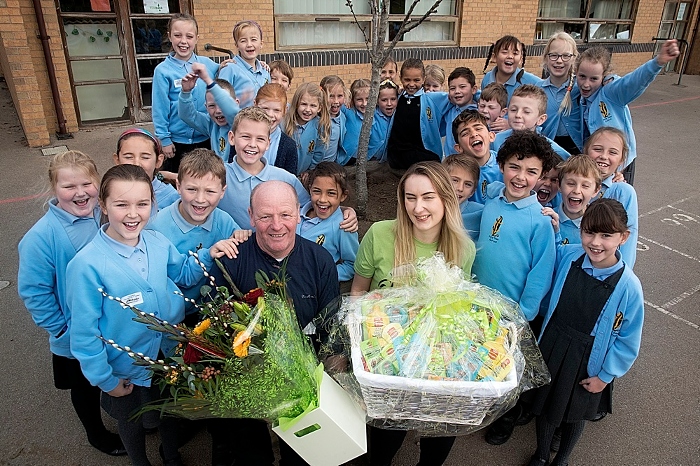 A primary school site manager in Nantwich has scooped a national "Hardest Working Hands" award!
Keith Challinor, 56, has worked at Pear Tree Primary in Stapeley, since the school first opened 15 years ago.
Now his hard work has been recognised in a national awards run by skincare brand O'Keeffe's.
It aimed to celebrate everyday people, who work extremely hard and regularly go the extra mile.
Keith was nominated by his wife Andrea and headteacher at Pear Tree Primary School, Boo Edleston.
Andrea said: "I nominated Keith because he's one of the hardest working people I know.
"He spends his weekends making things for the school and always goes above and beyond for the school and the children from teaching the children to ride bikes to helping build a greenhouse, entirely out of plastic bottles!
"Keith's got the hardest working hands because he never stops working."
Keith said: "Working at Pear Tree School is not just a job, it's everything. To win this award really does mean so much to me."
Boo Edleston, headteacher at Pear Tree Primary School, said: "Keith is a valued member of our staff. He has our school at the heart of everything that he thinks about.
"With Keith it isn't just about managing the site, it's about everything extra that he does for the children and the school."
Gemma Shepherdson, assistant brand manager, from O'Keeffe's, said: "We often hear inspirational stories of hardworking teachers but sometimes Support Staff and Site Managers can be overlooked, when they are often the unsung heroes.
"From the 100s of nominations we received, Keith's story really stood out to us.
"Keith not only works hard as Site Manager at Pear Tree Primary School, he also works out of hours to provide much needed additional resources for the school.
"Keith is valued by the children and all the staff at Pear Tree Primary School and it was clear to us that he really does go the extra mile!"