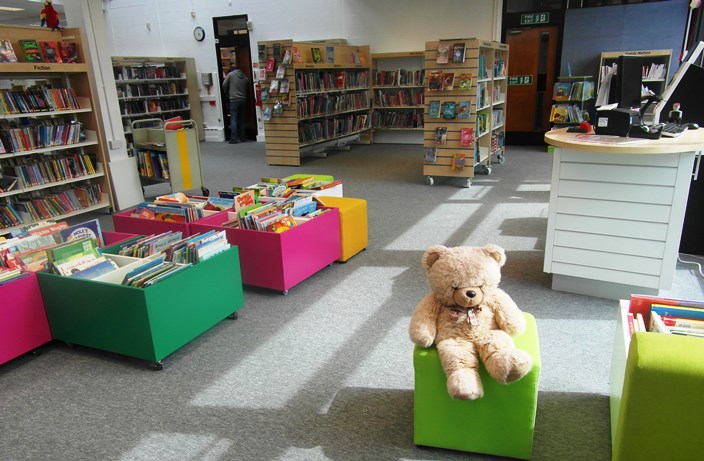 Nantwich Library will be a hive of activity once again this summer holiday.
Here is the latest list of what's on events in the Beam Street facility.
IT lessons for adults who are new to computers, with Learn My Way.
(https://www.learnmyway.com/)
Sessions are bookable with library staff and run on the following days-
Every Tuesday from 10am – 12pm
1st Thursday of every month 2.30pm – 4pm
Modules covered:
Using your computer or device
Online basics
More Internet skills
Online safety
Finding a job online
Managing your money online
Public services online
Community Coffee Mornings
Every Friday 9.15am – 12pm
Hosts for August include-
Representatives from Plastic Free Nantwich
Audlem Lass and the Wheelie Boat
RSPCA
£1.50 for hot drink and biscuit. All welcome.
Summer Reading Challenge
Children between the ages of 4-12 can now sign up for this year's Summer Reading Challenge, which this year is called 'Space Chase'.
The challenge is to read 6 library books over the summer.
Children who complete the challenge are invited back to the library in September to receive a medal and certificate in a special ceremony.
The challenge is completely free to join, children just need to be a member of the library to take part.
We are also running a number of events throughout the summer holidays, many on the theme of space.
Family Lego Time
Thursday 25th July 2.30pm – 3.30pm
Free, no need to book. Master builders of all ages are welcome!
Space Stories and Cosmic Cookies
Saturday 27th July 11am – 12pm
50p charge for the biscuit decorating, no need to book.
All children welcome.
This event is part of our monthly Family Storytimes which run every last Saturday of the month.
Space Junk Art
Monday 5th August
Age 4+
Come and build a rocket or spacecraft using the library's recyclable materials!
Free, booking essential.
Space Chase: The Writing Challenge
Tuesday 6th August 2pm – 3:30pm
Age 6+
Creative writing workshop on a space theme.
Booking essential, free.
Lego Club goes to Space
Tuesday 13th August 4pm – 5pm
Free, no need to book. Children of all ages welcome.
Chester Zoo Rangers
Wednesday 14th August 10am – 11am
Only One Planet Earth. Representatives from Chester Zoo talk to us about protecting our planet.
Age 7+
Booking essential
Friday 16th August 11am -12pm
Aliens Love Underpants Storytime and Craft
Free, no need to book.
Wednesday 21st August 11am – 12pm
The Library Sings…Family Singalong
Come and join us for a singalong of some well-known classic songs for all the family.
Free, no need to book. All ages welcome. Refreshments available after the singing for small charge.
Thursday 22nd August 10am – 11.30am
Lego Mindstorm workshop
Build a Lego robot and get it round a course using your best coding skills!
Age 7+
Booking essential. Free.
Thursday 29th August 2.30pm – 4pm
Scribblebots – Blast Off!
Build your own scribbling robot using STEM skills.
£3 charge to cover materials. Age 7+
Booking essential.
Nantwich Food Festival weekend
Friday 30th August and Saturday 31st August 11am – 12pm
Join us for either one of these special storytimes featuring campfire songs and stories.
Free, no need to book.
There are also weekly Rhymetimes, Storytime and Baby Bounce for pre-schoolers.
These are free and there's no need to book. Please contact the library for details of times and days.
Language conversation groups
For adults, we have a number of language conversation groups. There is no need to book onto these groups, and there are all free. Groups currently running are:-
French, German, Spanish, Welsh, Italian and Russian.
Please contact the library for details of times, dates and days.
Nantwich Library
01270 375361