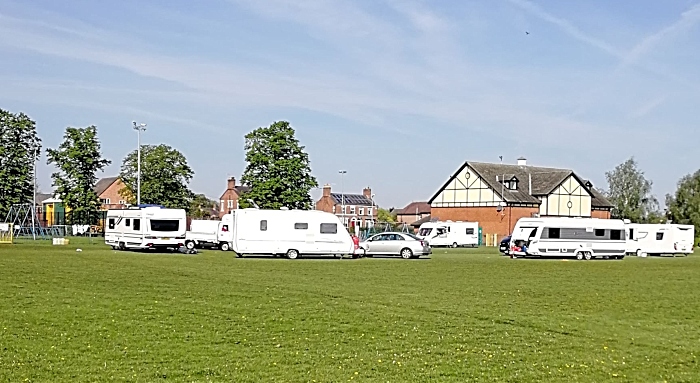 Dear editor,
Travellers on the Barony Park again
The end of July not only brought with it an abundance of rain, sufficient to cause the cancellation of the Nantwich show, but also the ninth unauthorised encampment on the Barony Park this year. In the same week, the Friends of Barony Park unveiled impressive plans, across 36 pages, as to how the park could be defended, with an intention, after consultation, that it is presented to the Labour and Independent coalition administration, that has now been in office at Cheshire East Council for just over 10 weeks. That is worth re-iterating; 10 weeks, not 10 years like the previous Conservative administration which did absolutely nothing to defend the Barony, and indeed arguably caused the current issues with travellers, by allowing a planning permission for a traveller transit site to lapse. I hope residents don't let impatience for change, blind them to the previous administration's negligence and inaction.
There are now a number of competing ideas as to how to prevent further unauthorised encampments:
1) Use of an Injunction
2) Permission and Construction of a transit site
3) Defensive measures
I say competing because whilst they are complementary approaches in terms of desired outcome, they compete for officer time and budget.
Use of an Injunction
Cheshire East Council has recently commissioned external legal advice to specifically advise on this and whether an injunction would be a practical and feasible step to take. This is a step that Cllr Clowes, now leader of the Conservative group on Cheshire East Council, should have taken, but failed to take, when she was the Cabinet member with responsibility for travellers. We will all look forward to the publication of that very much delayed advice, which if obtained a year ago might well have prevented nine unauthorised encampments on the Barony and scores more across Cheshire East.
Permission for, and Construction of a transit site
Disgracefully, the planning permission for a transit site at Cledford Hall near Middlewich was allowed to lapse whilst Cllr Clowes was the Portfolio Holder. Cllr Clowes also met with the Friends of Barony Park just weeks before the planning permission lapsed, but somehow it "never came up" in their discussion. Cheshire East Council now, at long last, regards planning permission for a new transit site and its construction as a priority in addressing the issue of unauthorised encampments. This is a very welcome change but the process is complex and time consuming, particularly the planning process and associated consultation and I'd be surprised if there is an operational transit site ready by next summer.
Defensive measures
The Friends of Barony Park publication is very helpful, with some really good ideas suggested, such as picnic tables, outdoor gym, seats, elephant rail and large rocks though I'm not so sure about flowerbeds standing up to 4X4s and large pick-ups. The one-off initial installation cost and the recurring annual maintenance costs still need to be worked up though and these have to be affordable.
Having been a Local Government Officer for nearly 40 years with quite a few years at Director level, I feel I can predict the advice and words of caution that Cheshire East Officers will give to the new Cabinet members; and I'm not saying that the Officers would be wrong:
The cost of any defensive measures will run into tens of thousands of pounds if not a six figure sum. It will not have been budgeted for by the previous Conservative administration and officers will justifiably ask where the money is coming from; reserves (which might already be accounted for) or from a revenue budget supporting other services?
They will ask why the Barony Park in Nantwich is to be favoured with this "emergency spending on defensive measures" and not other sites in Cheshire East equally afflicted by frequent unauthorised encampments.
Officers will warn that care needs to be taken that there can be absolutely no perception that the Barony Park is being favoured for defensive measures because the Crewe and Nantwich Constituency has an MP who lives in the town.
Officers are likely to advise that there must be delay, because if the injunction is granted there should be no need for defensive measures.
Officers are equally likely to advise that there should be delay because if they can get a transit site in position next year then these defensive measures might not represent good value for money, because they shouldn't need implementing.
Oh and don't forget the 9 Police Investigations launched into activities carried out whilst there was a Conservative Cabinet! I's will need to be dotted and Ts will need to be crossed, so the drawing up of a position statement is inevitable and a feasibility study will also be needed, to evidence that all is above board and can justify a recommendation that can be put before a future Cabinet.
I see some long grass growing in Cheshire East because Officers will favour the other two options.
There is a fourth route, if defensive measures are the preferred solution for local people and that is….. land transfer.
Transfer the Barony Park to Nantwich Town Council.
I have called for this before and I am well aware that I don't have the support of all Town Councillors, but my case is this.
Cheshire East Council, just a few years ago, transferred 3 toilet blocks, four Allotment sites, the Market and the Civic Hall to Nantwich Town Council. This helped Cheshire East Council to reduce its running costs but importantly it brought the control of town focused services closer to residents. Similar transfers took place across Cheshire East, so there should be no real obstacle to transferring the Barony to the Town Council. It is lawful and Cheshire East Council will save money by doing so.
The Barony Park incurs annual costs associated with grounds maintenance, maybe non-domestic rates and utility costs all to be paid for by Cheshire East Council who won't relish also paying the costs of defending the park. Transfer of the Barony Park transfers a financial liability from Cheshire East Council and it keeps its purpose; it will remain a park accessible to the public. Transfer of these troubled pieces of land could take place all across Cheshire East, putting Cheshire East Council in a position where it is encouraging communities to help themselves. Some Communities will want to help themselves and defend "their" land and incur the cost of doing so; others will decide to wait to see if Injunctions and a transit site resolve their issues. Transfer puts local people in control.
If the Nantwich Community wants its open space better protected and doesn't want to wait until next year to see if other measures will prevent unauthorised encampments then maybe we should fall back on the old adage…
"If you want something doing, do it yourself."
Cheshire East Council…… "let our park go!"
Yours sincerely,
Cllr David Marren
Nantwich Town Councillor