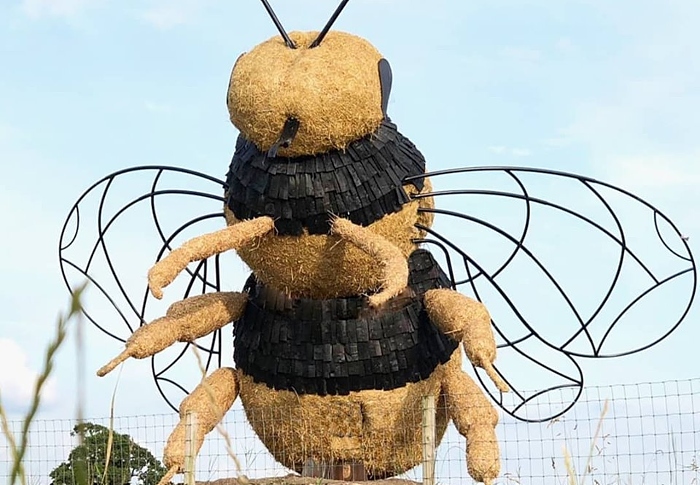 Snugburys ave unveiled their latest stunning sculpture – and it's creating a real buzz already!
This giant bee stands 40ft tall and is made of straw and hand split wood.
It has been unveiled in place of Peter Rabbit in the field next to the A51 at the popular ice cream attraction.
The wood is coated in a natural black dye to give him his iconic stripes.
The giant straw Peter Rabbit has stood proud at the site for three years, and Snugburys has been famous for such sculptures for many years.
A spokeswoman for Snugburys said: "We had an unprecedented amount of requests for our next straw feature, and this one was such an obvious pick for us.
"As a certified organic farm we do our best to enhance the farms environment for the local wildlife.
"We heard some terrible statistics about bees, for example did you know one third of the UK's bee population has disappeared in the last decade!
"We wanted to do our bit and help these little fellas out.
"We have teamed up with @bumblebeeconservationtrust and every chocolate honeycomb piece bought in our shop we will be donating 50p, helping them to keep up their great work of protecting our bees.
"They really are the bees knees!"
Previous straw sculptures have been made and displayed to celebrate certain events or themes, such as Big Ben, Millennium Eye, Dalek, Cyclist and a Meerkat.
Snugburys is base on the A51 Chester Road at hurleston, near Nantwich.
(Image courtesy of Snugburys. For more details visit https://www.snugburys.co.uk/)