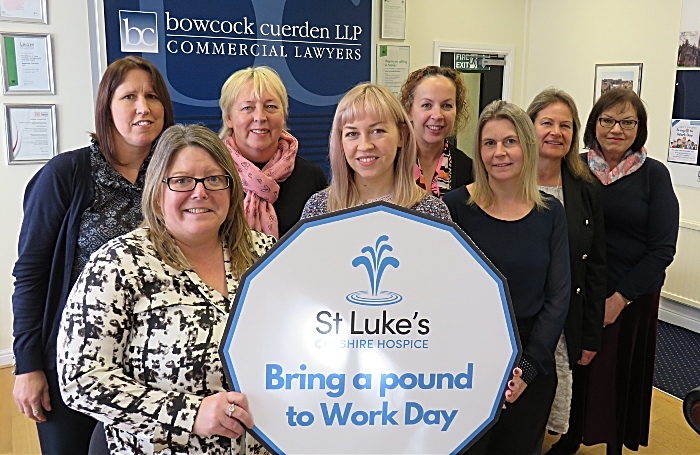 St Luke's Hospice Cheshire is gearing up for the easiest fundraising event in its 31-year history – and is urging local Nantwich businesses to get involved.
Thursday November 14 is 'Bring a Pound to Work Day'.
It wants workplaces of all shapes and sizes to come together for one day to fundraise for St Luke's at the cost of £1.
Andy Bailey, Corporate Partnerships Manager at St Luke's, said the simplicity appeals to most businesses.
"These days everyone is busy and a lot of local businesses tell us they would love to support St Luke's, but unfortunately don't always have the time.
"The beauty of this idea is it's really easy to take part and our teams of volunteers will even collect the donations."
The hospice is hoping to attract 100 local business to sign up for the campaign.
One of the first to pledge is Bowcock Cuerden, commercial law specialists based in Manor Road in Nantwich.
Julia Pritchard, office manager at Bowcock Cuerden, said: "We are happy to support St Luke's on their 'Bring a Pound to Work Day' on 14th November.
"It's a very simple way for us to get involved in raising much needed funds for the amazing work that St Luke's carry out 365 days a year."
Whether you are in a team of 2, 20 or 200, St Luke's would like you to register and help make this new initiative a success.
All money will go towards patient care at the Hospice, to support more local people and their families.
To be part of 'Bring a Pound to Work Day' register at www.slhospice.co.uk/bringapound
You will receive a 'Bring a Pound to Work Day' pack including posters to display, a collection envelope and a newsletter to give out about the work of St Luke's.
Then simply ask your staff to bring in £1 on 14th November.
Hospice volunteers will visit your workplace to collect the donations.
(Pic: St Luke's Hospice nursing staff look forward to Bring a Pound to Work Day, while (top) staff at Bowcock Cuerden in Nantwich have signed up)