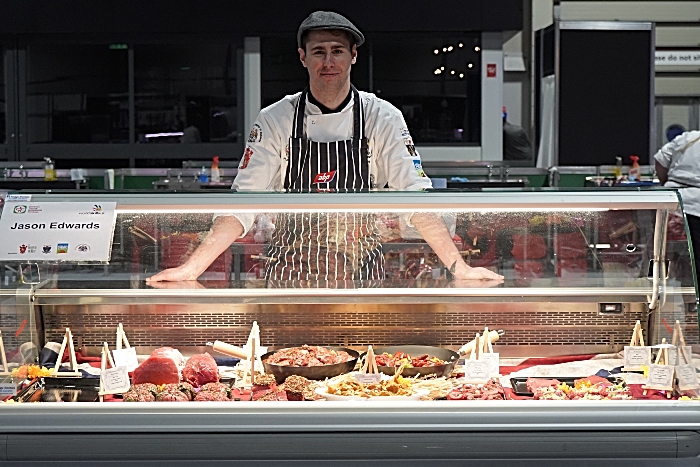 Reaseheath College apprentice butcher Jason Edwards has proved a cut above the rest by winning a bronze medal at the WorldSkills UK national finals.
Jason, 25, who works for The Hollies Farm Shop, earned his accolade at WorldSkills UK LIVE, the nation's largest skills and careers event, held at the NEC Birmingham.
Fellow Reaseheath finalist Elizabeth James, 17, an apprentice at her family's business W. James Butchers, Stoke-on-Trent, also impressed the judges although she just missed out on an award.
The young butchers are both studying a FDQ Diploma in Professional Butchery Level 2 with Reaseheath Training and attend the Nantwich campus while continuing to gain experience in paid employment.
WorldSkills competitions are designed by industry experts and focus on the highest UK and international standards.
Jason and Elizabeth had to complete five tasks over two days in front of a live audience, with judges looking for innovation, creativity, precision, presentation, work ethic and a structured method of approach along with safe and hygienic working practice.
They were supported throughout by Reaseheath's master butcher Gary Evans and commercial development coordinator Julie Bent.
Jason said: "This is the first time I've competed in butchery and winning a medal was amazing.
"The whole competition has been a valuable learning experience and I really enjoyed the final, although it was very intense.
"Butchery is a great career for young people, particularly if you like being active and creating things with your hands.
"There are also a lot of opportunities for progression.
"I'd like to thanks my bosses at The Hollies and my Reaseheath trainers for all their support, particularly on the more technical aspects of butchery."
Gary said: "I was very proud and delighted that Jason's talents were recognised. I think he has a great future ahead of him."
Two other Reaseheath students represented the college in other areas of the WorldSkills UK finals.
Landscape Gardener Eliot Johnson, 17, who is studying for his Level 3 Extended Diploma in Horticulture, competed against seven other talented young landscapers.
Harry Hiscoe-James, who completed Level 3 Advanced Construction Diploma in Bench Joinery last summer, held his own in the closely fought joinery finals although he narrowly missed out on an award.