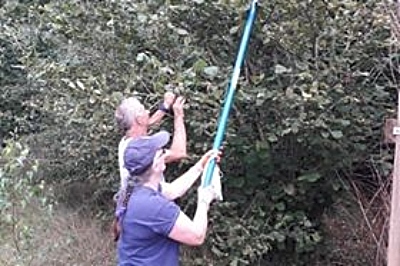 Cheshire Wildlife Trust has collected more than 200,000 seeds from across Cheshire as part of a national project to protect the UK's trees.
The Trust is a partner in the UK National Tree Seed Project, set up by the Royal Botanic Gardens, Kew's Millennium Seed Bank, with funding from players of People's Postcode Lottery.
The project was set up to build a collection of the country's native tree seeds for long-term conservation.
Tree seeds collected as part of the project are banked in the underground vaults of Kew's Millennium Seed Bank, the largest wild plant seed bank in the world, to form the UK's first national collection of tree seeds.
These collections play a role in conservation work to protect UK trees and woodlands, including against pests and diseases such as ash dieback and global challenges such as climate change.
The collections, and associated data, are available to researchers working on solutions to tackle the many threats facing our woodlands.
Cheshire Wildlife Trust has been working over the last five years to collect more than 236,506 seeds with the help of more than 50 volunteers.
Kevin Feeney, Living Landscape Officer at Cheshire Wildlife Trust, said: "This is the 5th consecutive year Cheshire Wildlife Trust has been working with Kew on the UK National Tree Seed Project.
"We are delighted to be involved in this national project and work to make sure Cheshire's trees are safe for future generations.
"The impacts however are far wider than trees, our health and wellbeing volunteers have been able to get involved in seed collecting.
"Giving the opportunities to recover through nature and make a difference on a national scale.
"The project has also allowed us to identify opportunities to support and protect lesser known Cheshire trees such as the wild service which is now restricted to just a few ancient woodland sites."
So far the UK National Tree Seed Project has collected over 13 million tree seeds from 70 different species right across the UK.
The project has been supported by more than 400 volunteers from 30 partner organisations in a massive UK wide conservation programme.
Alice Hudson, UK National Tree Seed Project Officer, said: "Building up this seed collection of some of the nation's favourite and most important tree species is a vital step in combating the multiple challenges facing our woodlands, such as pests and diseases and a warming climate.
"We can't thank Cheshire Wildlife Trust enough for their support in ensuring that seeds from across the UK are collected and their future conserved."