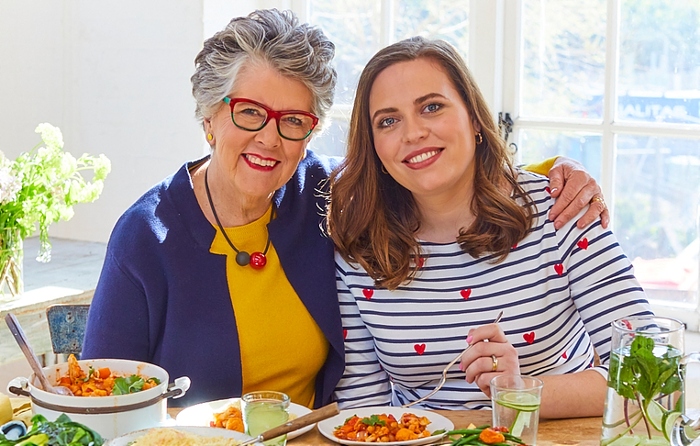 Prue & Peta Leith will be in Nantwich next month to promote their new cookbook 'The Vegetarian Kitchen', writes Jonathan White.
The book includes 100 vegetarian and vegan recipes from Prue Leith – the founder of Leiths School of Food and Wine, chef and Bake Off judge – and her niece Peta Leith, former pastry sous chef at the Ivy and lifelong vegetarian.
Prue & Peta Leith said: "Nothing pleases us more than when we cook for staunch carnivores, and find them asking for second helpings and wanting to know the recipe.
"Our style of vegetarian cooking is simple, rustic and flavoursome.
"We're not interested in foams and gels and edible flowers on every mouthful. Of course that style of cuisine has its place, but food is about nourishment, comfort and enjoyment.
"We use really good-quality, seasonal ingredients, and do only what's necessary to them in order to make them taste fantastic.
"Vegetarian and vegan food should not be about compromising or missing out on anything; a really well-devised and well executed plant-based meal should be just as delicious (if not more so!) than any unrestricted meal."
Steve and Denise Lawson, from Nantwich Bookshop & Coffee Lounge, said: "We are delighted that Prue Leith and Peta Leith are coming to Nantwich to promote their latest cookbook. Please book early to avoid disappointment."
The evening will include an introduction, a 45-minute talk, question & answer session and book signing.
Attendees are encouraged to submit their questions in advance.
The event will be held at Malbank School on Welsh Row.
Tickets are £20 per person, which includes a copy of 'The Vegetarian Kitchen' (RRP £25) and a glass of Prosecco, Bucks Fizz or orange juice on arrival.
There will also be a cash bar, run by Malbank School in aid of school funds.
For tickets visit Nantwich Bookshop & Coffee Lounge at 46 High Street or contact 01270 611665, email: [email protected] , or Facebook: https://www.facebook.com/NantwichBookshopCoffeeshop/