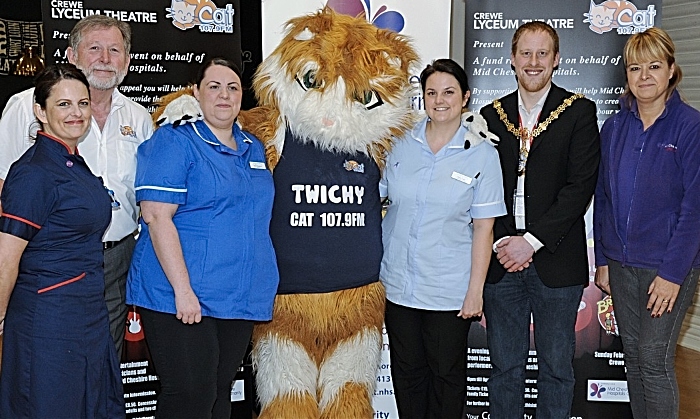 Local community radio station The Cat delighted fans yesterday when they presented 'Sunday Night at The Lyceum Theatre', writes Claire Faulkner.
The variety show was packed with singing, dancing and laughter, and was organised in aid of the Lost Little Ones MCH Charity Baby Bereavement Suite Appeal.
There was a wonderful atmosphere throughout the evening.
The audience were very supportive and with ongoing encouragement from Twichy, the station mascot, they joined in at every opportunity.
The show opened with a beautiful routine from Fraser School of Irish Dance, and there was an amazing display from Matrix Cheerleaders.
Honestly, I have no idea how they did those jumps.
I think my heart stopped every time one of them flew into the air.
Crewe Lions Under 9s Football Squad gave a training demonstration and poetry was performed by Helen Kay and Nigella.
Buzz Hawkins, creator of The Bradshaws provided lots of laughter by performing sketches and comedy songs.
Music came from Nantwich Concert Band and The Nightingale Choir.
Crewe Amateur Musical Society performed four numbers from their recent show Jesus Christ Superstar.
Singers Megan Lee, Oli Ng and Callum J Wright also performed, each one sounded amazing.
I would have loved to have heard more from Cathy Jain and William Spencer.
Congratulations to all the volunteers from The Cat for organising a wonderful and very enjoyable evening, and thank you to all the acts and performers who gave their time for free to support such a worthy cause.
Evenings like this highlight the amount of talent we have in the local area and show how we can work together to support local charities.
I do hope that The Cat organise another Sunday Night at The Lyceum again soon.